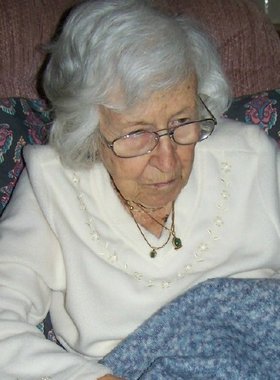 Irene Lucy Best
May 30, 1914 - March 26, 2009
Irene Lucy Best passed away peacefully at the home of her son on Thursday, March 26, 2009, following a long illness.
She was born on May 30, 1914, in Rye, N.Y. She was the daughter of Louis and Marie Baud, both natives of Switzerland.
Irene grew up in New York City, where as a teenager she helped her mother operate a boarding house on the upper West Side. She graduated from high school and took a job as a switchboard operator for Metropolitan Life.
In 1937 she married Charles Best, of Emlenton, Pa. In 1942 her son and only child, Richard Best, of Parkdale, was born.
In 1945 the young family moved to Colombia, South America, where Charles was assigned to open and operate sales and engineering offices for Gardiner Denver. Although he had never been to college, he worked his way from office boy to vice president in this large corporation. Irene and Charles lived in South America until he passed away suddenly in 1975.
In about 1980, Irene moved back to the United States, where she maintained an apartment in New Jersey and a small home in Bonita Springs, Fla. In 2005 she moved to Hood River to be near Richard, his wife, Wendy, and their daughter and grandchildren.
Irene resided at Hawks Ridge Assisted Living until 2007, when she was moved to Richard and Wendy's Parkdale home. They took care of her during the last years of her long life, helped lovingly and very professionally during the last months first by Providence Home Health and then by Heart of Hospice.
Irene loved living. She became attached to animals, had a fine singing voice, and enjoyed fishing and playing bridge and golf. She adored parties. She liked to laugh, and had a good sense of humor. She was adventurous and liked to go places. "I'll try anything once," was a favorite expression of hers.
Irene is preceded in death by her husband, Charles. She is survived by her son, Richard Best, of Parkdale; her daughter-in-law, Wendy Best, also of Parkdale; her granddaughter, Jan Meyer, of Hood River; her grandson, Michael Best, of Bozeman, Mont.; her great-grandchildren, Nathaniel, Julia and Emma Meyer, all of Hood River; her sister, Doris Tricarick, of New Jersey; her nephew, Fred Tricarick , also of New Jersey; her great nephew, Christopher Tricarick, of New York City; and numerous other relatives on her husband's side of the family.
There will be a memorial gathering for Irene Best in New Jersey at a later date.