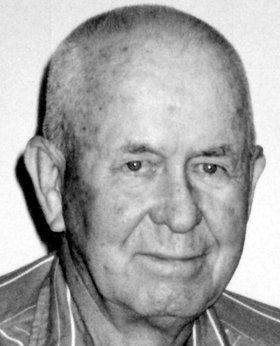 Denzel Frank Fisher
unknown - March 1, 2009
Denzel Frank Fisher, 85, died peacefully March 1, 2009, at his Hood River, Ore., home. He was born at home in Cook Neb., to Frank and Blanche Fisher.
Denny graduated from Cook High School in Neb., in 1941. After working for the railroad a short time, he headed west with his cousin, ending in Hood River. There he worked in the fruit ware-houses a little while. He then moved to Gresham to work in an auto repair shop.
Soon he was a welder on the Victory and Liberty ships at the ship-yards at Swan Island in Portland until he was inducted into the Army Air Corp, April 1943 at Fort Crook, Neb.
He went to radio operator school in Sioux Falls, SD, flying B-27 bombers, and then to gunnery school in Yuma, Ariz.
Denny was discharged early from the military June 1944, so he could return home to Cook to help his parents run the family farm. He returned to Hood River about 1950 working at the Dee Lumber Co.
Denny married Elmina VanRiper of Parkdale on June 3, 1951.
It took Denny a year to build a gas station at Cascade and Rand Road, opening in 1953, which became a place to spend a lifetime. A half-century of evolution began, remaining firmly in the hands of Denny and his family. Denny's Service became Flying A Service, then Phillips 66. The building was expanded, housing the Wonder Bread depot.
By the 1970s, Denny's Place restaurant, a 39-cent hamburger joint began with his son, Kirk. In 1983, Little Bit Ranch Supply was started, also with Kirk, sharing space with a thrift store and the Greyhound Bus Depot.
Also in the early 1970s, Denny bought a shop building, dismantled it, moved it and reconstructed it behind his building to start a body shop. He later sold that part of his property, becoming D&S Frame and Body in its current location. Another part of Denny's property he sold, which then housed the Franz Bread Depot for the next 27 years.
In the 1990s Denny and his wife started spending winters in Quartzsite Ariz., for the next 15 years. They were involved the last couple years with the Isaiah 58 Project, serving meals to the needy there.
In 2003 the last transformation of Denny's former gas station happened when his daughter bought Little Bit Ranch Supply from his son. Then Denny sold her the property in January 2008.
He remained actively involved during the whole 56 years since he built the original gas station.
Denny owned a race car in early 1954, #25 (or 'two bits'), racing on the local dirt tracks in The Dalles and White Salmon. Bill Myers and Scott Anderson did the driving. A spare engine became the beginning of 35 years of parts gathering to refurbish his 1948 Chevy pickup that now sits in the Western Antique Aeroplane & Automobile Museum (WAAAM).
Denny drove the little red truck in many local parades for Little Bit Ranch Supply from 1995 to 2008.
Throughout his life, Denny was a hunter and fisherman. He missed hunting season only two years out of 55, the year his daughter was born and last year due to his health. He entertained a lot of people with his hunting experiences.
Denny was active in several local churches throughout his life, serving as president of the Full Gospel Men's Association for a few years. He served his Lord, always willing to help anyone he could. Some people do make a difference in others lives.
He is survived by his wife of 57 years, Elmina; children, Kirk Fisher (Susie) of Hood River, Karen Howard (Bob) of Parkdale; grandchildren, Becky Ellis (Tim), Jeff Fisher, Nathan and Scott Howard; and three great-grandchildren, Brandon, Trystan and Kelby.
He is also survived by his sisters, Mardell Albers of Tecumseh, Neb., and Lauretta Schacht of Falls City, Neb., and numerous nieces, nephews and cousins. His parents and brother-in-law, Arnold Albers, preceded him in death.
Denny wished for memorial contributions to be made to the River of Life Assembly's building fund at 979 Tucker Rd, Hood River OR, where he was a member.