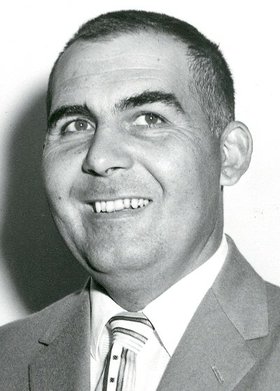 Kenneth W. Kirby
May 28, 1921 - April 14, 2009
Kenneth W. Kirby, a lifelong Hood River Valley resident, died April 14, 2009, at the Oregon Veterans Home in The Dalles, Ore. He was 87 years of age.
Private family services were held with Vault Entombment at Idlewilde Cemetery Mausoleum.
Ken was born in Odell, Ore., May 28, 1921, to Hood River County pioneers Bessie Mary Ann Croft and Wendell I. Kirby. He graduated from Odell High School, attended the University of Southern California and graduated from Oregon State University in 1946.
Ken served in the Marine Corps four years during World War II with duty in the South Pacific. He was a member of St. Mark's Episcopal Church, serving as junior and senior Wardens, vestryman and chairman of the building addition.
Ken was a member of Sigma Chi fraternity, Elks Lodge, American Legion, VFW; DAV; Oregon Historical Society; National Association of Review Appraisers; Oregon Association Review Appraisers, OSU Dads' Club and the OSU Alumni Association.
Ken was Past Commander, American Legion; Veterans' Service Officer pro tem; Selective Service registrar (commendation from President Lyndon Johnson); appointed by governor in 1950-51 to serve as Adjutant, Oregon National Guard Reserves; Civil Defense chairman; Red Cross Chairman and member of four-gallon blood donors; Hood River County chairman, Heart Fund; canvasser Cancer Fund; Chairman, United Fund and five-year solicitor; member of the advanced gift committee, Hood River Memorial Hospital fund drive 1958; Cub Scout packmaster and district finance chairman; ARA county report chairman; Board of Trustees, Pacific International Livestock Exposition; land use committee member; Extension Service Advisory Council; 4-H leader; President, 4-H Leaders' Association and recipient of County Certificate of Recognition, National Award; division chairman county fairs; livestock judge; auction chairman; Wheat League livestock show; county representative, 4-H Foundation; OSU Alumni Association. board of directors; county chairman, Parker Stadium and Spec Keene Award fund drives; Elks' scholarship committee; Yasui Scholarship committee; Sheltered Workshop board member; Mid-Columbia Mental Health board member; Postal Advisory board member; Presi¬ dent, HR High School Dads' Club.
He was employed as Hood River County Assessor; Director of Records and Assess¬ ments; County Administrative Assistant; County Administrator, retiring Jan. 1, 1987. He was recognized in Who's Who in American Government. Veterans' Administration appraiser and Fee appraiser.
Ken was preceded in death by his parents and brothers, Roy and Ralph Kirby.
He is survived by his wife, Bonnie Jean Kirby; son, Christopher; and his wife; Kathleen; brother; Harold Kirby; and his wife, Ann; grandsons Ian and Sean; and numerous nieces and nephews.
The family requests that memorial donations be made in Ken's name to the Hood River County 4-H college scholarship program c/o OSU Extension Service.
Memorial contributions may be sent to Anderson's Tribute Center (Funerals - Receptions - Cremations) 1401 Belmont Avenue, Hood River, OR 97031.
Please visit our Web site to leave a note of sympathy for his family. www.andersonstributecenter.com.