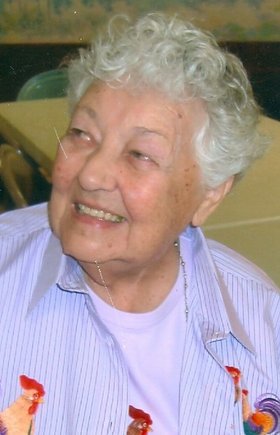 Lois Harrison Williams
July 9, 1917 - April 22, 2009
Lois Harrison Williams passed away April 22, 2009, at the Rock Cove Assisted Living home in Stevenson, Wash., with family by her side.
Lois was born July 9, 1917, in Olson, N.D., to Wilburn Leslie and Ella Florence (Stone) Smeltzer. She moved with her family at a young age to the Pacific Northwest and has lived in and around Cascade Locks, Ore., for the past 70 years.
Lois was twice widowed; she was married to Gibson Harrison in 1938 and he passed away in 1973. Lois and Gibson never had any children but she had a very dear love for all of her nieces and nephews and treated them as if they were her own. In 1977 she wed Ted Williams and they enjoyed traveling the world together; Ted passed away in 1998.
Lois was a fixture in the community of Cascade Locks and will be dearly missed by all who knew her. She was very active in the Cascade Locks Community Church, where she taught Sunday school for 30 years.
Lois also had worked for the Port as a toll taker at the Bridge of the Gods for 25 years; she volunteered for the Cascade Locks Museum; was active in the Garden Club and the Sewing Club of North Bonneville; and she could often be found behind her sewing machine making PJs, aprons and quilts for her family and friends.
In her younger years she enjoyed square dancing with Gibson.
In addition to the host of friends that Lois has collected over the years she is also survived by her two sisters, Shirley Carr and her husband, Gerald, and Florence Parbuhn and her husband, Carl, all of Cascade Locks, Ore.; 16 nieces and nephews, all of whom she loved dearly: Mary, Dawn, Billy, Karen, Elaine, Sally, Dan, Leslie, Debbie, Jerry, Cathy, Mike, Jeff, Mark, Nancy, Becky and their families; two sisters-in-law, Dorothy Smeltzer and Madaline Smeltzer; and the family of her late husband, Ted Williams; four daughters: Yvonne, Darlene, Joyce and Cindy and their families.
In addition to her parents and two husbands, Lois was also preceded in death by two brothers: Darrell Amos Smeltzer and Duane Arden Smeltzer.
A time to mourn Lois' passing and celebrate her life is planned for 11 a.m. Saturday, April 25, at the Cascade Locks Community Church. A reception will immediately follow her service; then at 1 p.m. will be interment at the Cascade Locks Cemetery. Pastor Glen Damon will officiate.
Memorials are suggested to Hospice of the Gorge in memory of Lois and sent in care of Anderson's Tribute Center.
Arrangements are under the direction of Anderson's Tribute Center (Funerals, Receptions, Cremations), 1401 Belmont Ave., Hood River, OR 97031; (541) 386-1000. Please visit www.andersonstributecenter.com to sign the family guest book.