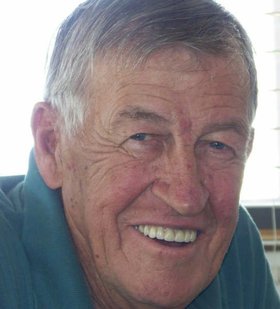 James "Jim" W. Denny
December 19, 1934 - April 22, 2009
James W. Denny, a former resident of Hood River, Ore., passed away with his loving wife Sheila by his side on April 22, 2009. He had fought a valiant battle against lung cancer which had been diagnosed in late February of 2009.
Jim was born Dec. 19, 1934, in Hood River, Ore., the first son of Lewis and Pearl (Edstrom) Denny. After graduating from Wy'east High School in 1953 Jim headed to Portland, Ore., and began working for Halton Tractor, starting a lifelong career in the heavy equipment repair industry.
In 1956 Jim married Donna Krall, of White Salmon, Wash. Together they had four children.
After 15 years in Portland and Vancouver Jim and Donna decided to "get back to their roots," and moved back to White Salmon in 1970. Together they owned and operated the Hilltop Station in Husum, Wash. In 1978 the station was converted to a log-scaling ramp and Jim went to work for various logging outfits.
In 1981 Jim and Donna divorced. When Jim retired he was ready for some fun and decided to purchase The Bungalow Tavern in Carson, Wash., and he went to "work" as groundskeeper at Carson Mineral Hot Springs Resort and Golf (he loved golf).
Jim eventually retired for real and decided to hit the road. He bought himself an RV and a Harley and started heading south for the winter. It was on his winter trip in 1996 to the "Fountain of Youth Resort" in Niland, Calif., that Jim met another "snowbird" that would become his wife, Sheila DeGraaf.
Jim married Sheila in 1998 and together they enjoyed their love of RVing throughout the United States, Mexico and Canada, motorcycle riding, 4-wheeling and just plain having fun. Jim lived his life to the fullest until the very end.
Jim is survived by his wife, Sheila; son, Michael, of Kodiak, Alaska; daughters Kimberly (Clint) Arden, of Vancouver, Wash., Cynthia (Will) Dittmar, of Canby, Ore., and Debra (Arn) Hogberg, of White Salmon, Wash. Also surviving are grandchildren Aaron and Adam Hogberg, Stefani Dittmar, Jennifer and Tara Tiffany, Stacy Thompson, Lisa and Jill Denny and two great-grandsons, Garrett and Derek Hogberg.
On Friday April 24, a Celebration of Life was held in Niland, Calif. A private remembrance will be held by the family.