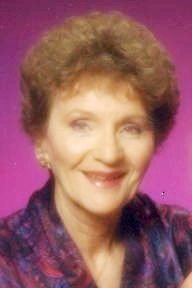 Geraldine "Geri" Vannier Frainey
February 23, 1920 - August 1, 2009
Geraldine "Geri" Vannier Frainey, 89, died Aug. 1, 2009, in Gresham, Ore. She was born Feb. 23, 1920, in Hood River, Ore., to Joseph and Nellie (Johnson) Vannier.
Geri grew up in Hood River, graduating from Hood River High School in 1938. She attended Pacific University in Forest Grove, Ore.
Geri married James Frainey on Aug. 6, 1944. He passed away in 1998. She was a secretary at Standard Insurance Company and lived in the Portland area for many years. In 1991 she moved to the Summerplace Retirement Community, near 148th and Halsey streets.
Geri was very active. She was a member of and actress in the Oregon Senior Theatre. She was also a member of the Amaranth Organization and the Gresham Widows of the Elks. At Summerplace Geri was a member of the drama and tap-dancing groups.
Her other interests included sewing, gardening, cooking and traveling. She enjoyed many types of dancing, including ballroom, tap, line, clogging and square dancing.
Survivors include a son, Michael Frainey, of Gresham, Ore.; saughter, Sheila Clark, of Damascus; brothers Robert Kingsley Vannier, of Seattle, Wash., and Joseph Russell Vannier, of Hoffman Estates, Ill.; as well as four grandchildren: Brian J. Frainey, Samantha J. Abbitt, Charles R. Casper and Sean P. Frainey.
A funeral service will be eld Thursday, Aug. 6, at 11 a.m. at Bateman Carroll Funeral Home, located at 520 W. Powell Blvd., in Gresham, Ore. Burial will be at Forest Lawn Cemetery in Gresham. Visitation will be held Wednesday, Aug. 5, from 1-5 p.m. at Bateman Carroll Funeral Home.
Remembrances may be made to the Susan G. Komen for the Cure, for cancer research.