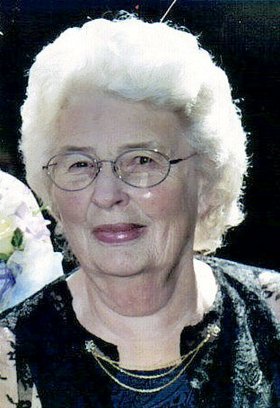 Ruth Laurel Caryl
April 13, 1928 - August 1, 2009
Ruth Laurel (McNeel) Caryl was born to Homer and Ethelme (Porter) McNeel in Hood River, Ore., on April 13, 1928. She passed away Aug. 1, 2009, at her home in Omak, Wash.
Ruth graduated from Trout Lake High School in 1946 and attended Central Washington University. She married Lloyd Conklin Caryl on March 26, 1950, in Trout Lake, Wash.
She was a loving housewife and mother, grandmother and great-grandmother; she spent many years operating a daycare in her home.
She is survived by five sons: Rollin (Debie) Caryl, of Yakima, Wash., Dwight (companion, Deedee, her two children and four grandchildren), of Omak, Dick (Patty) Caryl, of Omak, Tim (Ginger) Caryl, of Omak, and Paul Caryl, of Spokane; five daughters: Caryla (Scott) White, of Portland, Ore., Laurel (Rick) White, of Amelia, Ohio, Patsy (Mark) Burton, of Medford, Ore., Sue (Bill) Clark, of Spokane, Wash., and Lavonne (Pat) Roy, of Omak; 25 grandchildren and 11 great-grandchildren.
She was preceded in death by her parents, her brother Robert, and her husband, Lloyd, who died in June 1979.
Graveside services for Ruth Caryl will be held Thursday, Aug. 6, at 6 p.m. at the Okanogan Valley Memorial Gardens, located on Conconully Highway. A memorial dinner to follow services will be held at Dick and Patty Caryl's, located at 359 Conconully Highway.
Precht-Harrison-Nearents Chapel is entrusted with the arrangements.