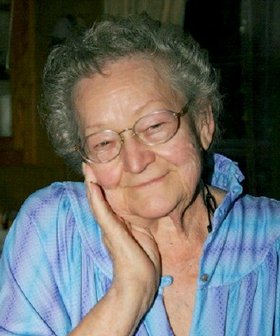 Florence Luella West
January 22, 1924 - August 4, 2009
Florence Luella West was born in Yreka, Calif., on Jan. 22, 1924, to Charles and Clara Baldwin. She passed away at her home in Carson, Wash., Aug. 4, 2009, at the age of 85.
As a child, Florence lived with different family members throughout Oregon from Siletz to Silverton. Florence met William J. West, and the couple married in Vancouver, Wash., on April 27, 1946. The family lived in Portland, Southern Oregon, Beaverton, Tigard, the Columbia River Gorge, Vancouver, and Nevada before settling in Carson.
During her life, Florence had many occupations; as a young woman during World War II, she worked both as a crane operator and a welder in the Portland shipyards. She also worked as a waitress, volunteered at the local food bank, clipped fish for the Department of Fish and Wildlife, and was the weather reporter for Cascade Locks.
Florence enjoyed several hobbies and activities such as cooking, playing Scrabble and other games, gardening and art of all kinds.
Florence especially loved music — including opera. At one time she sang in a barbershop quartette. She also sang in and directed the church choir.
She took an active part at Carson Bible Church, most importantly as Pastor Bill's wife. Her favorite role in life was wife and mother. She made lifelong friends wherever she went. Her family and many friends will miss her unique wit and humor.
Survivors include her children David West, of Carson, Donna Matichuk, of Honolulu, Hawaii, James West, of Carson, Thomas West, of Boring, Ore., Charles West, of Pendleton, Ore., Jonathan West, of West Sacramento, Calif., and Paul West, of Coos Bay, Ore.; brother Oscar Haug, of Coos Bay; 26 grandchildren, 36 great-grandchildren and three great-great-grandchildren.
She was preceded in death by her husband, William, who passed away Oct. 31, 1992, son Daniel West and sisters Frances Bottger and Elsie Kirkpatrick.
A funeral service will be held at 11 a.m. Tuesday, Aug. 11, at Carson Bible Church. Florence will be laid to rest with her husband at Willamette National Cemetery in Portland, Ore. Gardner Funeral Home is handling arrangements.