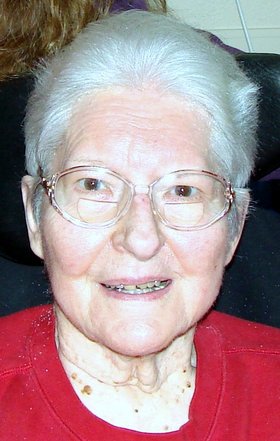 Julia Belle Bingaman
March 20, 1920 - July 31, 2009
Julia Belle (French) Bingaman, 89, died July 31, 2009, at Martha & Mary Health Care Center in Poulsbo, Wash. She was born March 20, 1920, to Floyd Lee French and Georgia Belle (Lynn) French of Hood River, Ore.
Julia graduated from Hood River High School in 1938 and married her high school sweetheart, Jack N. Bingaman, on Sept 30, 1939, in Hood River. Jack preceded Julia in death in December 2005.
Jack and Julia lived in Hood River for the first 20 years of their marriage. She was a member of the American Legion Auxiliary, Post 22, and belonged to Pythian Sisters, Wauna Temple #6, where she served once as Most Excellent Chief.
She and Jack both loved the outdoors and went hiking, picnicking and camping together. Jack climbed Mount Hood so many times he lost count and even took Julia to the summit once.
In 1959 the family moved to Yakima, Wash., where they lived for four years before transferring to Glenrock, Wyo., in 1964. In 1974 they returned to the Northwest, settling in Centralia, Wash.
Julia belonged to the Christian Church, Disciples of Christ her entire life. She served on the Deaconate and many committees. She and Jack took communion to hospitalized church members every Sunday for many years. She also wrote letters each morning to people who were hospitalized or unable to attend church services.
In Centralia, she and Jack were charter members of the Sons of Norway, Skjonndal Lodge 127. She also volunteered at the Centralia Hospital Gift Shop and donated knitted baby sweaters for them to sell.
Julia was a homemaker and raised four children. She also operated a child care business for some 50 years. Children she cared for often stayed in touch well into adulthood.
Julia enjoyed learning new things and took classes to learn Norwegian, sign language and clowning. In her clowning class she created "Cinnamon" and enjoyed making children laugh.
Another favorite activity was keeping in touch with friends, especially her high school graduating class of 1938. Jack and Julia maintained a class publication and organized reunions, eventually establishing a twice yearly gathering at Multnomah Falls, Ore. in April and September.
Julia was preceded in death by Jack, her husband of 66 years; her brother Lee, her parents, grandson Sean and great-granddaughter, Jennifer.
Surviving are her four children, Nora L. and George A. Bingaman, of Spokane, Wash., R. Eric Bingaman, of Casper, Wyo., and Dena B. McCarthy, of Seabeck, Wash.; five grandchildren, 16 great-grandchildren and five great-great-grandchildren.
A memorial service will be at the First Christian Church, 701 Franklin, Olympia, Wash., on Saturday, Aug. 22, at 11 a.m.
Memorial donations may be made to Northwest Christian College at 828 E. 11th Ave., Eugene, OR 97401, or Martha and Mary Health Care Center, Development Dept., 19160 Front St. N.E., Poulsbo, WA 98370.
A memorial Web site is at www.tuellmckeebremerton.com.