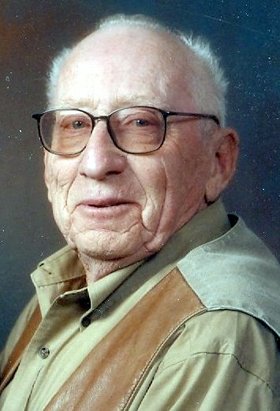 Vernon Frank Fischer Sr.
January 27, 1920 - August 3, 2009
Vernon Frank Fischer Sr., 89, died peacefully at his home with his loving family at his side on Aug. 3, 2009. He was born Jan. 27, 1920, in Hartington, Neb., to Bernard and Elizabeth Stoppert Fischer.
Vernon spent his childhood on farms in Nebraska and Iowa and served in the Civilian Conservation Corp (CCC) as a young man.
He was drafted into service for the U.S. Army in 1942 and served in the European theater in North Africa, Italy and Germany. He served with the 15th Field Artillery Observation Battalion and reached the rank of staff sergeant.
Vernon was honorably discharged in 1948. Following his war service he traveled to California to visit his brother and work in the timber industry.
While there, he met Shirley Way. They married on Sept. 2, 1950, in Arcata, Calif., where they welcomed their first child a year later.
Vernon's 89 years of living took him from the farms of Nebraska to the timber industry of Northern California and finally, in 1951, to his wife's hometown of Parkdale, Ore.
Shortly after relocating to Parkdale, Vernon and Shirley purchased Fischer's Grocery and later constructed and operated the Parkdale Café.
Vernon was very involved as a founder and volunteer on the Parkdale Fire Department, including using his family station wagon as a makeshift ambulance until the department was able to upgrade their equipment.
In these roles Vernon made countless friends who sought his advice and delighted in his keen sense of humor and gift of telling a good story.
Fischer's Grocery was sold in 1965 so that Vernon could pursue a career with the U.S. Department of Agriculture. He worked as a fruit inspector from 1966 to 1982.
During those years, they also bought a fruit orchard in the upper valley (1972), operated a custom hay cut and bale business, and Vernon worked winters at Mt. Hood Meadows. He continued running the pear orchard until his retirement in 2001.
Vernon was passionate about anything that brought his family together, including birthday celebrations, family dinners and camping trips. He was a member of the American Legion and a past member of the VFW.
Vernon will be deeply missed by his loving wife of 59 years, Shirley, and their children: Linda Gray, husband Mark and daughter Jennifer; Cathy Wesche, husband Steve and daughters Kate and Beth; Ken Fischer, wife Sandie and sons Phil, Corey, Kevin and Joe; Mark Fischer, wife Rhonda and sons Rodney and Jeremy; Vernon Fischer Jr., wife Denise and sons Ben and Jacob; and Harold Fischer, wife Erica, son Daniel and daughter Valerie.
In lieu of flowers, the family suggests donations may be made in Vernon's honor to Heart of Hospice or the Upper Valley Lions Club in care of Anderson's Tribute Center.
Recitation of the rosary will be at 1 p.m. on Friday, Aug. 7, followed by a Mass of Christian Burial at St. Mary's Catholic Church, 1501 Belmont Ave. in Hood River. Interment will be at Parkdale Cemetery.
Arrangements are under the direction of Anderson's Tribute Center (Funerals, Reception, Cremations), 1401 Belmont Ave., Hood River, OR 97031; 541-386-1000; www.andersonstributecenter.com.