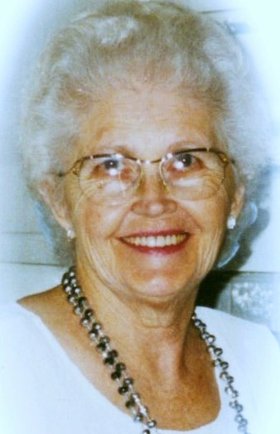 Elizabeth "Betty" Travis Barresse
July 20, 1930 - August 5, 2009
Elizabeth Travis "Betty" Barresse was born July 20, 1930, and fell asleep in Jehovah's memory Aug. 5, 2009.
Elizabeth has eight children: Bruce, Andrew, Catherine, Mary, John (and his wife, Yvonne), James, Anne (and her husband, Karl), and Donna (and her husband, James; 24 grandchildren and many great-grandchildren.
Her love was for her family and many loving spiritual friends. She was humble, loving, kind and funny; a truly spiritual woman. Elizabeth had a profound love for Jehovah God and his Son, Jesus Christ. She confidently and proudly remained faithful.
Her joy was her ministry: She loved to preach and share the good news of God's Kingdom and remained steadfast and faithful to the end of her time.
Elizabeth loved to sing, especially praises to our Heavenly Father Jehovah. She was young at heart; she loved her little dolls, pretty cups, flowers and the smell of first rain. She has friends from New Jersey to Florida to Oregon to Washington and they all love her so.
Thank you, dear Father in Heaven, for blessing us with a real treasure, a spiritual treasure. We will meet again with open arms, family friends, Pat, Susan, Joan and hundreds more. Hugs to the sky.
Galatians 5:22, 23; Numbers 6:20-26.
A memorial service will be held at 2 p.m. Aug. 15 at the Kingdom Hall of Jehovah's Witnesses, on Loop Road, 1312 Riggleman Lane, White Salmon, Wash. Doug Avon will be officiating.