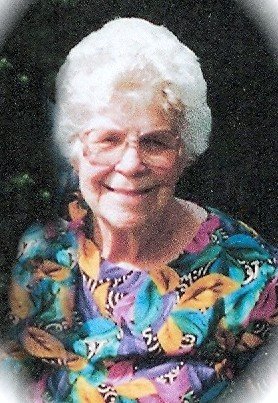 Jane Orcelia Brand
June 6, 1918 - August 17, 2009
Jane Orcelia (Bovee) Brand went home to her Lord early Monday morning, Aug. 17, 2009, in her Hood River home surrounded by family.
She was born June 6, 1918, in Seattle, Wash., and graduated from Roosevelt High School, then went on to graduate from Whitworth College in Spokane, Wash.
Following college, she worked for the Port of Embarkation, in Seattle. In her spare time she was church secretary and was active in several young adult church activities.
In 1943 she met a young Marine sergeant at the local roller skating rink, while he was home on leave. They corresponded for nearly a year before he proposed in one of his letters. On July 8, 1945, at Camp LeJeune, N.C., she married William S. Brand. They were married 58 years before he preceded her in death in 2004.
They lived the first 40 years of their married life in Seattle. During those years, Jane worked a number of different jobs, sometimes two jobs at a time, one of which was food taste demonstrating.
During those years they raised their five children, and when the youngest was nearly out of high school, they adopted one of Bill's nieces, when she was 12, and raised her, too. In the early 1960s she went to work for the U.S. Postal Service, retiring in 1983.
During their marriage, the couple enjoyed taking their children and joining several other friends and their families, going camping, usually in the North Cascades. On several occasions the three families, plus two couples, who had no children, all pitched tents and/or rented "cabins" at Cass's Resort, on the Skagit River, near Index, Wash.
Many times she would tell her children about going to "Grandpa and Grandma's cabin" just a few miles further up river, near Concrete, where she was treated in the local hospital, following a tumble down a bank which caused a sliver about 6 inches long from the palm of her right hand up into her wrist.
Following her retirement, the couple moved to Hood River in 1985, first setting up their new home on the West Fork of the Hood River, where Bill loved to bring in fresh trout for breakfast, that he caught about 30 feet behind their house.
Later, after a couple of hard winters, the couple moved into their home just off of 12th Street, which they purchased in 1991. Jane, wanting to keep touch with the community, kept her finger on the pace of the town as a food taste demonstrator, until nearly 81 yrs of age.
During her "free" time, she enjoyed crocheting and knitting. In the first 20 years of her retirement, she crocheted or knitted afghans or sweater sets or both for countless grandchildren and great-grandchildren, nieces, nephews and great-nieces or great nephews of her own and those of her friends or relatives.
Jane is survived by her younger siblings, Helen Finlayson, of California, Chuck Bovee, of Alaska, and his twin, and Mel Taylor, of Hood River, and their respective families. She took great delight in regaling people with the stories of carrying her baby sister and brother, "one on each hip," when she was only 7½!
Jane is also survived by children Mary Jane DeVore, of Hood River, Verna Snyder (and husband Paul), of Tacoma, Wash., Judy Lee, of Hood River, Gary Brand, of Budapest, Hungary, Jeffery Brand (and wife Margaret), of Monroe, Wash., and Michelle Whipple, of Liberal, Kansas.
She was grandmother to 19 and great-grandmother to 14 and Aunt Jane to many, many nieces and nephews; and countless "honorary adoptees" were proud to call her "Mom," "Grandma" or "Aunt" Jane.
A memorial service will be held at Shepherd of the Valley Church, 1631 Eighth St., Hood River, beginning at 3 p.m. Wednesday, Aug. 28, with light refreshments to follow.
The family suggests that remembrances be made to Heart of Hospice in care of Anderson's Tribute Center.
Arrangements are under the direction of Anderson's Tribute Center (Funerals, Receptions, Cremations), 1401 Belmont Ave., Hood River, OR 97031; 541-386-1000. Please visit www.andersonstributecenter.com to sign the family guest book.