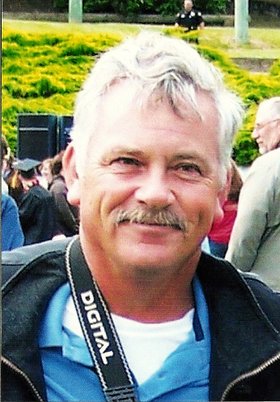 Leland "Alan" Mayhew
March 3, 1952 - August 16, 2009
Leland "Alan" Mayhew, 57, went home to be with Jesus on Sunday, Aug. 16, 2009. He passed away at his residence on the family farm on Juniper Flat.
He was born in The Dalles, Ore., on March 3, 1952, to Leland Mayhew and Dona (Curtiss) Mayhew. He attended grade school and high school in Maupin, Ore.
Alan was an outstanding athlete, participating in football, basketball and track. His pole vault record still stands at South Wasco Schools, set on a day with a borrowed pole and wood chips in the pit. He learned to pole vault with a bamboo rod from a roll of carpet.
He graduated from Wasco County Union High School in 1970 and attended Oregon College of Education in Monmouth, Ore., for one year.
On Sept. 11, 1971, he married his high school sweetheart, Shannon G. (Perkins) Mayhew in Dufur, Ore., at The First Christian Church.
Alan worked in numerous industries which included farming, aviation and sawmills, and concluded as a journeyman electrician for Coburn Electric.
He began his employment at The Tygh Valley Timber Company, returned to the family farm for a short while, and then pursued a career in aviation at The Dalles Municipal Airport under the supervision of Don Mobley, who had nicknamed him "Aileron."
He earned his commercial and instructors pilot license (CFII) and trained numerous basic and advanced students. In addition, he flew charter flights to provide for his family. After this career he entered an electrical apprenticeship program.
Prior to their residence in Maupin, Alan and Shannon also lived in Hood River, moved to The Dalles, and finally moved back to the family farm on Juniper Flat, just outside of Maupin.
Alan cherished and loved spending time with his family and friends, especially over a pot or two of coffee. Some hobbies he enjoyed were: photography, riding his Harley Davidson, driving fast in his Corvette, helping out on the family farm, hunting, fishing and traveling to Hawaii; and he had recently obtained his certification in open water scuba diving.
He enjoyed playing the guitar daily as a way to relax and worship the Lord. He attended church in Hood River and had been actively involved in worship and leadership at The Dalles Evangelical Church and, most recently, at Maupin Community Church.
He is survived by his wife of 38 years, Shannon Mayhew, of Maupin, Ore.; his sisters, Kathy Vaughn and her husband, Al, of Maupin, Ore., and Carol Mayhew, of Sherwood, Ore.; his brother, Curtiss Mayhew, of Maupin, Ore.; his daughter, Marti Mayhew, of Honolulu, Hawaii; his son, Jacob Mayhew, of Portland, Ore.; his daughter, Christine Mayhew, and his son, Josh Mayhew, of Maupin, Ore.
He is also survived by his aunt, Loyanne (Curtiss) May, of The Dalles, Ore.; nieces Torrie (Williams) Dennis, of Hayward, Calif., Alexandra (Vaughn) Ueland, of McCord, Wash., and Megan (Perkins) Winsor, of The Dalles; mother-in-law, Vera Perkins, of The Dalles; sister-in-law, Linda Perkins, of Dallesport, Wash.; as well as numerous relatives and friends.
He was preceded in death by his parents, Leland and Dona Mayhew; his father-in-law, Rodney Perkins; uncle, Val and Jean Miller; uncle, Tom "Tommy" Curtiss, and uncle, Charlie May.
Viewing will be held on Thursday, Aug. 27, and on Friday, Aug. 28, from noon until 6 p.m. at Spencer, Libby and Powell Funeral Home, 1100 Kelly Ave., The Dalles.
A Celebration of his Life will be held on Saturday, Aug. 29, at 11 a.m. at The Mayhew Family Farm Shop on Earl Crabtree Road. A private family burial will be held.