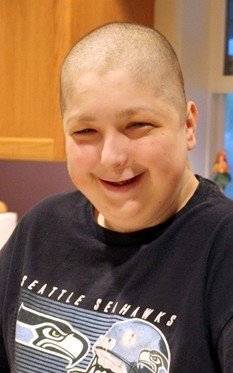 Matthew Autrey Hanners
October 18, 1986 - November 27, 2009
Matthew Autrey Hanners was born on Oct. 18, 1986, in The Dalles, Wasco County, Ore. He passed gently from this life, Nov. 27, 2009 of the H1N1 virus.
Matthew was born with a very rare syndrome called 11q+. It resulted in his being a special needs child, with many physical handicaps, but it never kept him from being a beautiful ray of sunshine wherever he went. He loved people and he loved new things, and he radiated a joy that was as warm as the summer sunshine.
The number one thing Matthew loved to do was go fishing with his dad. Every April when trout season opened he would get up early and go fishing with him. They always came back with their limit of fish, Matthew grinning like mad and proudly begging pictures of his huge catch.
His other favorite things were his computer, gaming on the Xbox with his big brother, Andrew, and Matt Hasselbeck, and the Seattle Seahawks.
Every Sunday he would get on one of his Sea Hawks T-shirts and wait in excited anticipation for the game to start. If they lost he would be very upset, but if they won he would whoop and holler, "We won! We won!" and tell everyone the score.
His other most favorite thing was to go with his friend Gary Young in Gary's little yellow roadster, all about the town. I teased him and called them one day, "The Roadster Boys," which just made him laugh and say, "Mom, I'm not a boy, I'm a man."
His other friend in our neighborhood was Ken Chandler. Whenever Matthew saw him outside he would yell across the street, "Hey, Ken, You're the man!" and Ken would yell right back, "No Matt, you're the man!" Then they would just laugh and laugh.
Our neighbor Hazel Pearson also liked to talk with him. He came out to ride his bicycle one day and when she went to talk it startled him and he jumped and said real solemnly, "You scared me; don't you ever do that again." She said, "'I'm sorry, Matthew," then he laughed, because he always thought things like that were so funny.
Matthew could never retain anger, he could not bear a grudge, he did not like to see people sad and would go give them a hug and try to comfort them.
If he saw you crying he would bring you a tissue and say, "All better soon?" If you smacked yourself or banged yourself up from what you were doing he would say, when you yelled, "More careful next time?!" and you couldn't help laughing.
No one was a stranger; everyone was "my friend," to him. He would walk up to complete strangers and begin talking to them; it mattered not that his speech was unclear, in less than five minutes he had them beaming from ear to ear. They may not have been smiling when he started but he never went from someone without them having a big smile on their face.
He always put his whole heart into everything he did and he never thought there was anything he couldn't do. Only a few weeks before he went to Jesus he had asked if he could go to college.
I could tell endlessly of his joy and kindness, for never have I known before a heart so good and free of guile. I know that many are the people that he touched in this valley, and many are the people he has touched in our travels.
From our entire section of the plane on our spring trip, when we took him to Hawaii to everyone we met there, in parks or markets. He even made instant friends with the Hilo chief of police, who happened to be in the parking lot near us, at Hilo Saturday Market, looking into a fender bender.
Matthew just went right up and began chatting with him, the next thing you know the officer is asking to have his picture taken with Matthew, beside his vehicle, and the people with the fender bender are just smiling as big as you please. So when the officer finally turned to them and said, "Sorry for the delay; I just had to do a little PR," they just laughed and said, "No problem at all; we were enjoying the chat."
Matthew had received a digital camera from his sister, Yvonne, and her husband, Blair, for Christmas. He loved that camera and he took it with him whenever he could. He loved using it and needed no help. He took lots of pictures in Hawaii and amazed us all with his natural ability to take good shots.
While there he fell in love with the Hawaiian sea turtles and everywhere he went he took pictures of their images, be it a mural on a wall, carved wooden ones in the markets, pottery ones, or bright ones on quilt fabric. You would laugh to see some of his pictures, he took pictures of things you and I might never think of, like his brother Andrew's baked pies and pumpkin bread loaves.
We went this summer to the Portland Pirate Festival and he, his brother and I got costumed up to the hilt for it. He had a blast. He took pictures of all kinds of "pirates," and they hammed it up with the widest smiles. The glow on their faces a direct reflection of his.
Yes, we sorrow and yes, we miss Matthew's sweet smile and for a while the world will seem a darker place because he is not in it, but we know his soul resides with Jesus in heaven. He is not handicapped there and there he can grow and learn and do all those things his broken body would not let him do while he was here with us. Matthew, our son, you will be sorely missed.
Matthew is survived by his parents, Gregg and Lesa Hanners, of Hood River, Ore.; his sister, Yvonne, and her husband, Blair Ellsworth, of Cascade Locks, Ore.; his brother, Andrew Hanners, of Hood River; his aunt and uncle, Linda and Bob Hasbargen, of Burbank, Wash.; and his grandmother, Mary Ann Hanners, of Stevenson, Wash.
Also surviving are his uncle and aunt, Richard and Linda Hanners, of Hood River; and their children, Steven and Jennifer Hanners; his aunt and uncle, Holly and George Pongracz-Bartha, of Tualatin, Ore., and their children George, Stacey, and Bridgett and her husband Paul Boettcher, and their baby son, Balin; and many other aunts, uncles, and cousins too numerous to name here.
Matthew
By Lesa L. Hanners,
Dec. 3, 2009
Our birdy with a
broken wing
Went to help the
angels sing.
He took flight his wing
made whole
To heaven went the
sweetest soul.
His smile has added
to its light,
His voice so cheerful
and so bright,
Sings now the praises
to the King,
With happiness his
soul doth sing.
Yet I am sure he's
shed a tear,
For all of those he
held so dear.
He knew not what it
was to die,
He would not want us
long to cry.
But think of him so
full of joy,
Our sweet and loving
sunshine boy.
(Inspired by the hope of St. Matthew, Chapter 18, verse 10.)
And the little birds outside our windows that Matthew loved so much.
Arrangements are under the direction of Anderson's Tribute Center (Funerals, Receptions, Cremations), 1401 Belmont Ave., Hood River, OR 97031; 541-386-1000. Please visit www.andersonstributecenter.com to sign the family guest book.