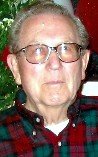 Charles "Charlie" A. Nickerson
July 1, 1918 - December 7, 2009
Charles "Charlie" A. Nickerson, 91, passed away Monday, Dec. 7, 2009, at Providence Medical Center in Portland, Ore. His life tour began in Bend, Ore., on July 1, 1918.
His father, Leland, died soon after he was born in the flu epidemic of 1918 and his mother, Gertrude, remarried. She died of tuberculosis in The Dalles sanitarium in 1929.
Charlie lived with various aunts and uncles in La Grande and Baker City throughout the rest of his childhood doing farm chores to earn to his keep.
In 1941 he met Lilly Ollivene Prowell, whom he affectionately nicknamed Ollie, at a dance in La Grande. Ollie thought he was best dancer and just wanted to dance one time with him. She ended up dancing with him through 68 years of marriage.
Charlie was drafted into the army for World War II just two months after they were married and shipped out. He served his tour of duty in Europe and was discharged in 1945.
He re-enlisted in 1946 and was assigned to post war Japan. Ollie and their first son, Leland, went with him. They have many fond memories of the time they spent there, marveling at the kindness and hospitality of the Japanese people after the conflict.
The next post was El Paso, Texas, where second son, LeRoy, was born. Ollie was expecting Lorena when the Korean War broke out and Charlie was sent overseas again. Then it was on to the Chicago area for many years where Charlie worked at 5th Army Headquarters.
The next stop for the family was Naples, Italy, for three years. Again, everyone has fond memories of the time spent there.
They traveled as much as possible around Europe seeing all the historic sights.
The next transfer was to San Pedro, Calif., and then Fort Ord until late in the Vietnam War when Charlie was called overseas for a third war. The family remained in the states until his return to Oregon and then a transfer to Presidio in San Francisco, Calif.
Charlie retired from the army in 1972 and the couple moved to San Diego, Calif., where Charlie went to work for the Marines until 1985 when he finally retired for good.
He and Ollie spent the next 10 years or so traveling in their motor home and abroad visiting New Zealand, Australia, Russia and Alaska. They usually spent a large part of the summer months in Hood River and began making plans to move here in 2006. By December 2007 they were settling into their new home.
Charlie and Ollie both helped in the orchard, the garden and the yard every summer. Charlie was deadly with the weed eater and the yard will never be quite as well kept now that he's gone. Well after his second retirement, around age 75, he took on learning how to use the computer. He was always a great cribbage player and found worthy opponents on the Web from all around the world.
Charlie is survived by his wife, Ollie; daughter Lorena and her husband, Steve Sherlock; son Leland and his wife, Jan; son LeRoy and his wife, Dana; grandsons Loren, Lance, and Lee Michael; grand-daughter Michaelle; and two great-grandchildren, Justice and Athena.
His ashes will be interred at Willamette National Cemetery. Graveside services are planned for Dec. 14 at 1:30 p.m.
Donations in lieu of flowers are requested to Opportunity Connections in Hood River or the charity of your choice in care of Anderson's Tribute Center (Funerals, Receptions, Cremations), 1401 Belmont Ave., Hood River, OR 97031; 541-386-1000. Please visit www.andersonstributecenter.com to leave a condolence note for the family.