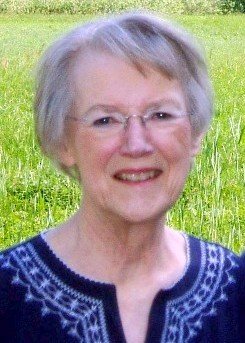 LaDonna Sandahl McCarty
August 5, 1936 - December 9, 2009
On Aug. 5, 1936, LaDonna Sandahl McCarty was born in Minden, Neb., to Fred and Elizabeth Sandahl. On Dec. 9, 2009, she went to be with the Lord, after a long illness.
She was so loved, and she loved us well. This Wednesday at 11 a.m., we will gather at First Baptist Church, 1889 Belmont Ave. in Hood River, to give thanks to the Lord for His gift to us: LaDonna — wife, mom, sister, aunt and friend. A reception will follow.
LaDonna moved to the Portland area with her family as a young child. She graduated from Gresham High School in 1954 and attended Portland State, where she competed on the volleyball team.
She graduated from Oregon State College (University) where she studied home economics and institutional management/dietetics. She took an internship at Mills College in Berkeley, Calif., and was later hired to be the tearoom manager.
In 1960 she met Gordon McCarty at First Presbyterian Church in Berkeley. They married on Aug. 26, 1962, in Portland, Ore.
Gordon and LaDonna settled near the University of Maryland for Gordon's continued studies. LaDonna took a job in the Department of Commerce in Washington, D.C., to manage the cafeteria.
She later owned a fabric store and taught clothing construction classes to adult learners in the D.C. area. Together they enjoyed the outdoors, music, theater, arts and history of the East Coast.
In 1975, shortly after their daughter Kathleen was born, Gordon and LaDonna moved to Oregon. LaDonna's professional life in Hood River was that of a seamstress, both at Twelfth Street Fabrics and Glass Slipper Weddings. She shared her sewing skills through adult lessons and her daughter's 4-H sewing group.
She loved hosting friends and family in the home and served up delicious meals with a natural hospitality. She enjoyed opportunities to travel, visit family and make friends, during trips throughout the United States, Europe, Mexico and Costa Rica, as well as welcoming those who came to visit.
The family joined First Baptist Church not long after the move west, and LaDonna began faithfully serving her church family and friends using her God- given talents. She is remembered for her words of gentle encouragement, thoughtfulness, positive outlook, quiet servant's heart, resourcefulness and her life-giving faith.
LaDonna knew that time was growing short, and in her characteristic way, she planned and organized and made sure we would be okay up to the end. She died in her home peacefully with friends and family on Wednesday morning.
She is survived by her husband, Gordon, of Hood River; her daughter, Kathleen, of Portland; her two brothers and sisters-in-law, Keith and Juliana Sandahl, of Green Valley, Ariz., and Steve and Liz Sandahl, of Rainier, Ore.; her sister and brother-in-law, Vanita and Richard Scholz, and many other dear family members from both the Sandahls and McCartys.
Arrangements are through Anderson's Tribute Center, 1401 Belmont Ave., Hood River, OR 97031; 541-386-1000. You may visit www.andersonstributecenter.com to leave a note or memory. In lieu of flowers, you may choose to remember LaDonna through contributions to First Baptist Church of Hood River, or Hospice of the Gorge in care of Anderson's Tribute Center.