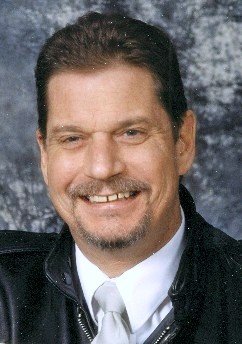 Thomas Alden Van Orden
September 13, 1957 - December 25, 2009

Thomas Alden Van Orden, 52, passed away peacefully on Dec. 25, 2009, at home with his loving wife by his side after a long battle with kidney disease. He was born Friday, Sept 13, 1957, in San Francisco, Calif., to Doug and Jody Van Orden.
Tom lived in many different states, being the son of a naval officer. He graduated from high school in Misawa, Japan, in 1976 and entered the Army in November 1976. He was very proud to have served his country during wartime and later in life. The only tattoo he had was his 25th Infantry patch on his left arm. He wore that proudly.
He married the love of his life and soul mate, Carolyn (Horat) Van Orden, on July 3, 1983, in Reno, Nev., with family and friends by their side. They lived in Hayward, Calif., until the big earthquake of 1989 hit during the World Series (Oakland vs. San Francisco). They found beautiful Hood River in 1991 and made the big move.
Tom loved collecting knives and swords and enjoyed bow and gun target shooting. Thanks to living in Odell and great neighbors he was able to do both for 13-plus years until his health started to deteriorate in 2004.
His hobby was watching TV, especially the History Channel, NASCAR racing, baseball (got this from his grandma) and football. He and Carolyn loved to bet between themselves on all the NASCAR races and football games every year. How competitive and equal they were!
Tom worked for many companies throughout his life, including selling cars, bikes (his favorite), cherry harvest as a forklift operator (another favorite) and finally at Your Rental Center.
Anyone who knew Tom loved his humorous way of life. He made one promise to Carolyn on their wedding day — that it would never be dull — and he kept that promise every day. Forever and a day! He was never into socializing but when he did, he was the life of the party.
He is survived by his loving wife, Carolyn, and their two (cat) boys, Moose and Mickey. Also his father, Doug (Maui), brother Jim (Pullman, Wash.), sister Stacy (Maui) and many wonderful nephews and one niece whom he loved and cherished.
Tom was preceded in death by his grandparents and his mother, Jody, and his beloved Barney, MissC and Boo.
A military service will be held at a future date; for details please e-mail Carolyn at numb3rsluvr@embarqmail.com. Memorials can be made to Van Orden Friends of Animals fund, Gorge Community Foundation, P.O. Box 1711, Hood River, OR 97031.