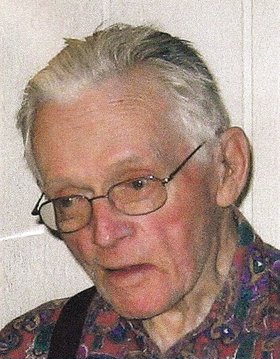 Harry Sponnoble
March 21, 1921 - December 18, 2008
Harry Sponnoble, 87, a resident of Hood River, Ore., passed away at a care facility in The Dalles, Ore., on Thursday, Dec. 18, 2008.
He was born in Manistee, Mich., on March 21, 1921, the only child to Aubrey Hess and Mildred Sponnoble. He grew up in Michigan, where he graduated from high school. After high school he attended the University of Michigan where he graduated with a degree in chemical engineering.
Harry married Roxanne Yost in Puerto Rico 30 years ago and has lived in Hood River for the last 20 years. He worked as a pharmaceutical plant manager in Puerto Rico, St. Croix, New Jersey and New York.
He also was the treasurer for the Lions Club of Hood River, was honored as Lion of the Year and did volunteering for many years. He was everywhere that the Lions Club needed help. He loved to work in his shop and was quite the handyman.
Harry is survived by his wife, Roxanne, of Hood River; his daughters, June Towne, of Underwood Wash., Debbie Sargent and Lynne Flemming, of California, Rachael Griffin, of Australia, and Jeannette Griffin, of Florida; and his grandsons, Kirby and Brian McAdams, of Underwood, Wash. He was preceded in death by his parents.
Private cremation was held at Win-Quatt Crematory in The Dalles with Spencer, Libby and Powell Funeral Home in care of arrangements.