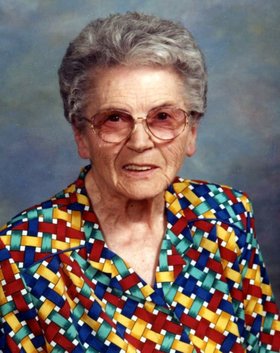 Katherine Frazier Smith
February 20, 1915 - February 1, 2009

Katharine Frazier Smith, of Gresham, Ore., went to be with the Lord Sunday, Feb. 1, 2009.
A service to honor and celebrate Katharine's life is planned for 1 p.m. Saturday, Feb. 7, at Anderson's Tribute Center. Pastor Vicky Stifter of Riverside Community Church will officiate. Interment will follow at Idlewilde Cemetery.
Katharine, an only child, was born at home to Joseph and Bernice Frazier Jr. in Hood River, Ore., Feb. 20, 1915. She was a fourth-generation Oregonian, as her great-grandfather Foley had come to Oregon by the Applegate Trail in 1852.
By the time she graduated from Hood River High School in 1932, she was an accomplished pianist and organist. As a youngster, she traveled by bus weekly to Portland to further study her craft under Dr. Frederick W. Goodrich. Her love of music enabled her to spend many years as organist for Riverside Community Church in Hood River.
For a time she accompanied the chamber choir and was sought-after to play music for many weddings, as well. In more recent days, with a smile, she stated that for her, music was "addictive."
During the 1930s she lived for nine years in Dyersburg, Tenn., where she met and married Woodrow W. Smith. They were later divorced and he has since passed away.
Katharine was a bookkeeper for Diamond Fruit Growers for many years. Her retirement in 1980 was the year to take the trip of her dreams to Europe. She was an accomplished seamstress, and loved working crossword puzzles. For many years she followed with relish the Portland Trail Blazers and on occasion would attend games.
In her early years she was a member of Pythian Sisters, Four-Leaf Clover Club, the Riverside Afternoon Guild and a Blue Bird leader. She also had a passion for researching her family history. Many hours were spent volunteering at the Hood River Museum which she found satisfying.
By the late 1980s Katharine moved to Portland to be near her children and grandchildren. She continued playing piano for the retirement home choir. Her zest for learning continued through those years as she participated in a writing class.
Surviving children are Linda Bussey and her husband, Bill, of La Pine, Ore., and Betty Jo and her husband, Jim Eason, of Happy Valley, Ore. She is also survived by grandchildren Sam and Brandy Eason, Matt and Gina Eason, and Roy Eason, and one great-granddaughter, Alee Eason. She is preceded in death by two sons, David R. and Daniel A. Smith.
The family gratefully acknowledges the compassionate loving care our mother and grandmother received from her caregiver, Maria Grimes. Her days were spent happily napping with kitties and having tea with her fresh-baked cookies. We thank Maria for making her final days simply grand.
Family suggests that memorial contributions be made in Katharine's memory to Helping Hands Against Violence and sent care of Anderson's Tribute Center.
Arrangements are under the direction of Anderson's Tribute Center (Funerals, Receptions, Cremations), 1401 Belmont Ave., Hood River, OR 97031; 541-386-1000. Please visit www.andersonstributecenter.com to sign the family guest book.