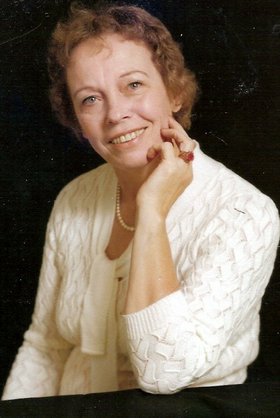 Mary Agnes Lingren
April 16, 1916 - January 29, 2009
Mary Agnes Lingren passed away at her home in Odell, Ore., on Thursday, Jan. 29, 2009. She was born April 16, 1916, to William and Margaret (McIlwain) Ramsay in New Liskeard, Ontario, Canada.
A service to honor and celebrate her life will be at noon Friday, Feb. 20, at Anderson's Tribute Center. Pastor Larry Ward of the Odell Methodist Church will officiate. Committal will follow at Idlewilde Cemetery.
Mary grew up in northern Ontario with her two brothers and a sister. After high school Mary's dad would accompany her each day for a short train trip to her normal school which she completed at age 19, and immediately started her teaching career.
After her teacher training, Mary taught kindergarten through 12th grade in both public and church schools. When she retired from full-time teaching she remained active during her lifetime as a teacher.
Mary married in 1941 and her son, Randy, arrived in 1944. The family moved from a mining community in Ontario, Canada, in 1959 to Southern California.
During the 1960s and early 1970s Mary and Randy's father served in the hospital and education fields both in the Peace Corps and as missionaries in the Philippines.
In the middle 1980s Mary renewed a friendship with George Lingren, and they enjoyed a loving marriage for 11 years. Mary and George were very active in the Odell community in church and volunteer work.
Mary was a member of the Odell Methodist Church. Throughout her life she often played the organ in church and sang in the church choir. For many years Mary taught piano lessons. Her love of music was unsurpassed. Teaching Sunday school was always a joy for her.
Mary is survived and will be dearly missed by her son, Randy; daughter-in-law, Susan; granddaughter, Jill, and close family members of George Lingren's family.
In addition to her parents Mary was preceded in death by her sister, Jesse, and brothers Walter and Charles.
The family suggests that any contributions be made in Mary's memory to either the Odell Methodist Church or Hospice of the Gorge and sent in care of Anderson's Tribute Center.
Arrangements are under the direction of Anderson's Tribute Center (Funerals, Receptions, Cremations), 1401 Belmont Ave., Hood River, OR 97031; 541-386-1000. Please visit www.andersonstributecenter.com to sign the family guest book.