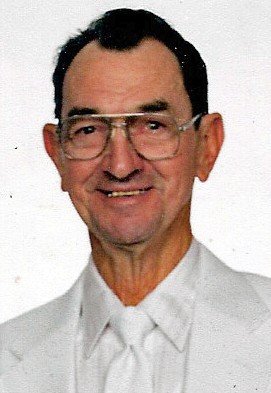 Richard "Rick" Carleton Cantrell
March 25, 1920 - February 9, 2009
Richard "Rick" Carleton Cantrell, 88, a resident of Dufur, Ore., passed away on Monday, Feb. 9, 2009. He was born on the Carleton Ranch in Dufur on March 25, 1920, the second of three children to Richard Burgess and Edna Adelaide (Aiken) Cantrell.
Rick grew up in Dufur, was active in many school activities including sports, and graduated from Dufur High School in 1939. He then attended Oregon Normal School (now Western Oregon University) in Monmouth, Ore., played on the varsity basketball team, and graduated with a lifetime teacher's certificate. He served in the U.S. Navy from 1942-45 during World War II.
Rick married Idonna Ward, of Union, Ore., in 1942. This marriage was later solemnized in the Salt Lake Temple of the Church of Jesus Christ of Latter-day Saints, when he was sealed to his wife and family for time and all eternity.
From 1952, he lived and ranched in Dufur, Ore. During his lifetime, he taught school at Hill Military Academy, Parkdale High School, Union, Lobster Valley, Chenowith and Dufur schools, where he retired. For several years, he owned Rick's Feed in Dufur.
He is a member of the Church of Jesus Christ of Latter-day Saints. He manifested his love for his Father in Heaven and his Savior, Jesus Christ, by the life he lived, serving missions with Idonna in Nigeria and Texas, and serving for 17 years as a temple worker in the Portland, Ore., Latter-day Saint Temple.
He had a great love for his family, his country, and his many, many friends. He enjoyed serving with the Dufur City Council, the Wasco County Sherriff's Department for 25 years, as Wasco County Judge for four years, and was a Wasco County Commissioner.
He worked the Tygh Valley All-Indian Rodeo for more than 20 years. He was loved and admired for his sense of humor, his work ethic and his love for people. To him, there were no strangers; only friends he hadn't met. He will be missed by family and friends.
He is survived by his wife, Idonna, of Dufur; his sons, Rick and his wife, Cheryl, of Kennewick, Wash., Tom, of Salt Lake City, Utah, and Jim and his wife, Kathleen, of Dufur; his daughter, Idonna-Jean (Donnie) Bruns, and her husband, Peter, of Silverton, Ore.; his 14 grandchildren; his 22-and-counting great-grandchildren; his two dear sisters-in-law and several nieces and nephews.
He was preceded in death by his mother and father, sister, Dorothy, and his brother, Tom.
Viewing/visitation will be held on Saturday, Feb. 14, from 9-11:30 a.m. at the Church of Jesus Christ of Latter-day Saints, 15th and Oregon streets in The Dalles, with a memorial service to follow at noon. Interment will be held on Monday, Feb. 16, at 1 p.m. at the Union, Ore., cemetery.
Memorial contributions may be made to the Dufur Alumni Scholarship fund at P.O. Box 342, Dufur, OR 97021.