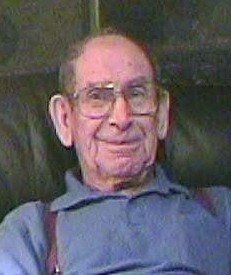 Ernest "Ernie" Andrew Wilson
July 12, 1920 - February 12, 2009
Ernest Andrew "Ernie" Wilson, 88, a resident of The Dalles, Ore., passed away at his daughter's home on Thursday, Feb. 12, 2009.
He was born in Creston, N.C., on July 12, 1920, the oldest of three children to Martin Luther and Annie Rooney (Snyder) Wilson.
Ernest married Jewel Wilson on Dec. 24, 1941, in Mtn. City, Tenn. He moved to Oregon in 1941 from North Carolina. He was well-known locally for his craft of floor covering, his generosity and his ability to always say "yes" to everyone.
He was a lifetime member of Union Local 1236. He enjoyed hunting, fishing and reminiscing about the past.
He is survived by his daughter, Sharon "Shari" Kennedy and her husband, Sean, of The Dalles; his very special sister-in-law, Wanda Lewis, of Las Vegas, Nev.; his granddaughter, Aimee Thompson, and her husband, Brian, and grandson Jordyn Kennedy, of The Dalles; his great-grandchild, Brooke Thompson, The Dalles; and numerous nieces and nephews across the U.S.
He was preceded in death by his wife, Jewel, his parents and two brothers. He will be dearly missed, but remembered fondly by all who knew him.
A celebration of his life will be held on Saturday, Feb. 21, from 1-4 p.m. at Cousins banquet room in The Dalles.
Memorial contributions may be made to Meals on Wheels, 1112 W. Ninth St., The Dalles, OR 97058.