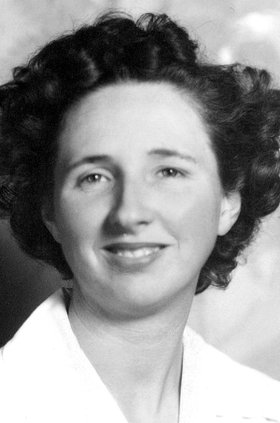 Lura Mary Merz
July 13, 1917 - December 15, 2008
Lura Mary Merz passed away in her sleep at 91 years of age on Dec. 15, 2008, at Columbia Basin Care Facility in The Dalles, Ore. She was born in Battle Creek, Mich., to Grant H. and Ethel M. Lapham on July 13, 1917. At about the age of 2, the family moved to Concrete, Wash., where she grew up with her three younger siblings.
At the age of 17, in 1934, she married George Godfrey. During their 16-year marriage she became the mother of three: two girls, Josephine and Joyce, and a son, Joseph.
In 1952, at the age of 35, she was remarried to John A. Merz in Yakima, Wash. John also came from a previous marriage with two girls, Lorene and Melody, and a son, John Jr. Together, Johnny and Lura had three more children: Ronald, Rosanne, and Steven — truly a "yours, mine and ours" family.
In 1957, John and Lura moved the family to Parkdale, Ore., and purchased the "Rumbaugh Place" on Clear Creek Road. They farmed pears, apples, strawberries and potatoes, while also leasing the "Bozich Place" on Lava Road. The family kept a milk cow, horses, chickens, guinea hens, ducks, geese, a pig or two, and a steer to fatten for meat.
Lura was a 4-H leader and taught both a cooking class and a knitting class. The younger kids were involved with 4-H and showed pigs, their horse, Trudy, and a Jersey and Angus string of cattle at county and state fairs over the years. It was also important to Lura for her children to be exposed to music; hence, each had piano lessons from Mrs. Hood in Parkdale growing up.
After most of the children were out of the house, Lura worked at Diamond Fruit Growers, both in Parkdale and at Diamond Central in Odell. In 1972, she and Johnny sold their farm and moved to a piece of property which adjoined it.
Later, they moved to Eliot Drive in Hood River, Ore., where they enjoyed many years of retirement. Often, they could not be found at home as they were on the road traveling in their RV, which was a pastime they enjoyed very much.
Lura was a wonderful cook, often whipping up whole meals out of what seemed like nothing. She was highly skilled at anything to do with sewing and crafts. She was an avid quilter, and most of her children can tell you that they still have a quilt or two made by Lura. Comically, her quilting frame took up so much space that her visitors can remember having to crawl under it to get through the living room!
Lura also had a great passion for gardening. She was often "caught" by her family members outside arduously working in the garden when the summer heat made it seem crazy to be doing so! Rarely was a thing grown in the garden wasted; Lura could have written a book on canning and preserving food. Much of her work ethic in this way was driven by hard times earlier in life — nothing was thrown away.
Lura loved camping and the outdoors. The great Merz hunts for deer and elk were always cause for excitement, usually serving as an excuse for the children to get out of school. Lura seemed to be a "bear magnet," and retellings of her several bear encounters over the years are a point of humor within the family.
Her grandchildren hold cherished memories of camping trips to The Cedars in the RV, where they were allowed to run amok day in and day out, so long as their hands were washed before dinnertime.
As one of the Jehovah's Witnesses, Lura loved to share her faith with others. She belonged and attended meeting at the Hood River location. The onset of Alzheimer's disease facilitated her move from the Eliot Drive house to Columbia Basin Care Facility in The Dalles in 1995.
Lura's spunk, expert gardening and homemaking skills, and all-around capability and can-do determination, will be fondly remembered by her family as hallmarks of her legacy. She is survived by a brother, Alba Lapham; five of her children: Josephine Bader, Joyce Cannon, Ronald Merz, RosAnne Cyrus and Steven Merz; and three stepchildren: Lorene Murray, John Merz Jr. and Melody Lembeke. There are 20 grandchildren, 32 great-grandchildren and six great-great-grandchildren.
The family has decided there will be no memorial service. Remembrances in Lura's name may be made to the Providence Hood River Memorial Hospital Foundation Sunshine Club.