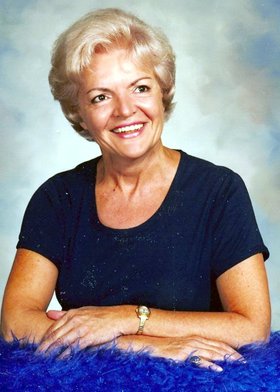 Faye McCormick
October 13, 1926 - December 22, 2008
Faye McCormick, of Portland, Ore., and formerly of Hood River, passed away on Monday, Dec. 22, 2008, at West Hills Health and Rehabilitation Center in Portland at 82 years of age.
She was born on Wednesday, Oct. 13, 1926, in Hood River. She was the only child of Francis William and Verna Faye (Surrett) Absten. The family lived on Seventh Street, right next door to her maternal grandparents, W. Frank and Olive O. (Morse) Surrett, and their son, "Uncle Cliff." Little Faye dubbed her grandparents "Ma and Dada" and in return was called "Tink,"
She grew when pianos, not televisions, held the central part of the living room, and Faye started singing and playing sitting next to her mother. A note tucked away in her Bible 20 years after her mother's death describes that lasting memory.
Faye attended church and schools in Hood River as she grew up. She was a member and sang in the choir of the Asbury United Methodist Church. In high school she sang in the girls' glee club, started collecting sheet music and records, and dated Jack McCormick. She made her first money picking berries and apples, scooping hard ice cream and ushering at the Rialto Theater when she was not at games or dances with Jack.
While Jack was in the army, she graduated and worked for the First National Bank downtown. Faye and Jack married on Nov. 27, 1944. After World War II they lived in "the project" apartments downstairs from their lifelong friends, Bob and Zelma (Bryant) Level. There is not enough time to tell all those stories, but they were good times.
Baby boomer number one, Jennifer Faye, was born on Jan. 19, 1947, and Faye and family moved to Eighth Street. After a few years baby boomer number two, Colleen Rae McCormick, arrived on Dec. 19, 1950. Like her mother, Faye taught her girls to sing harmony and to love all types of music, which resulted in the living room productions of "The McCormick Sisters."
After moving to Portland, Faye and Jack divorced and she started working for U.S. National Bank of Oregon where she remained for more than 32 years before retiring.
Faye married Richard Davies in 1957, but the marriage was annulled about a year later. In 1960 she married Charles "Chuck" Pearson and became a stepmother to his son, Mark. Together Faye, Chuck and family enjoyed some great camping and fishing trips around Oregon, Wisconsin and British Columbia.
At home they divided their time watching football and Faye's favorite classic movies. She never missed an opportunity to see "White Christmas" and "The Wizard of Oz" anytime they were shown.
In 1966 she got her driver's license and became a grandmother for the first time when Jennifer and her husband, Richard, had their son, Richard.
The next year, 1967, was a very tough year; Faye was with her mother when she died of cancer in February, and weeks later with her daughter when she was notified that her husband had been killed in Vietnam. Shortly after her third grandchild was born, Faye lost her father to cancer and Faye and Chuck divorced.
Faye shared housing with friends over the years after her divorce: Louise Knight, of Portland, and Dorothy McCormick and "Bud" Carr, both formerly from Hood River.
Dorothy and Faye traveled to New York and Hawaii during their time together, a real high point for both of them. Bud and Faye attended jazz events and camped around the state visiting lots of mutual friends and listening to lots of music.
The 1980s brought her three grandsons and lots of trips to Lake St. Louis, Mo.
Faye moved back to Hood River to an apartment in 1990, and was able to spend lots of time with her hometown friends. In 2000 she suffered a bleeding stroke that made living on her own impossible. After a year of physical therapy and convalescence she was one of the first residents in the Hawks Ridge Assisted Living apartments. She lived there for five years, where she celebrated her 80th birthday with friends and family.
In June of 2007 after a short hospital stay she moved to the West Hills Health and Rehabilitation Center in Portland, where she continued to sing when the mood struck her.
Arrangements are under the direction of Anderson's Tribute Center (Funerals, Receptions, Cremations), 1401 Belmont Ave., Hood River, OR 97031; 541-386-1000. Please visit www.andersonstributecenter.com to sign the family guest book.