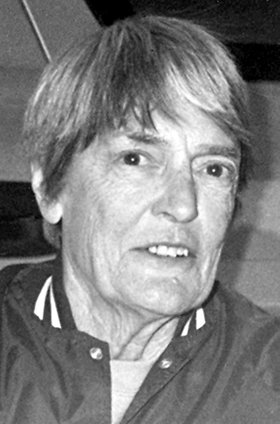 Joan Burchell
April 25, 1923 - December 14, 2008
Joan's life journey began in Manhattan, N.Y., April 25, 1923 — and what a journey it was.
Joan grew up in Chappaqua, N.Y., as a proper lady; exposed to opera, social etiquette, art; all while being the "tomboy" who sledded the fastest down the steepest hills.
As a young woman, she defied tradition, moving to Venezuela to work as a decorator and furniture designer. She traveled extensively in South and Central America, mostly alone, in her Karmann Ghia.
With a third revolution brewing, Joan decided it was time to leave Venezuela. She lived for a time in Scotland, then moved back home to Chappaqua, working for Reader's Digest until retirement.
During those years, she was an avid swimmer and kayaker. She kayaked and camped, alone, along the Danube River, and traveled extensively in Europe.
After retirement, Joan decided that Chappaqua had become too urban, and traveled the country looking for a suitable home. The fact that she found, and chose, the community of Mt. Hood attests to her good judgment. She lived there for 20 years.
Joan loved the community, and the community loved her. She was self-educated, mechanically clever and artistic. Her spirit, humor, independence, and interest in all things endeared her to many people. Joan is a true example of living life on one's own terms.
She passed away peacefully, with friends at her side, on Dec. 14, 2008.
She is survived by her sister, Josephine Burchell, of Mount Kisco, N.Y. She was preceded in death by her sister, Janet.
In lieu of traditional services, a celebration of Joan's life will be planned for early summer, when her ashes will rush away with the flow of the river. One last float trip. She'll go with love.
Memorial contributions in Joan's name may be made to Hospice of the Gorge (1630 Woods Court, Hood River, OR 97031) or the Joan Burchell Fund at the Gorge Community Foundation (P.O. Box 1711, Hood River, OR 97031).