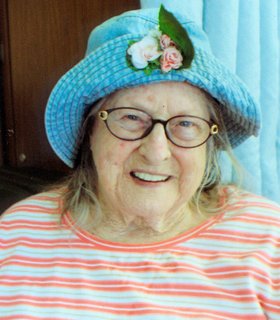 Emily Gay Goldberg
October 9, 1919 - January 11, 2009
Emily Gay Goldberg, age 89, died peacefully on Saturday, Jan. 11, 2009, at the Hood River Care Center. She was born Emily Page Gay on Oct. 9, 1919, in West Virginia. She was the third of five children born to Janet (Kelly) Gay and Dr. Frank Roy Gay.
Emily attended Sawyer Business College in Los Angeles, Calif. In 1948, Emily was united in marriage to Rube Goldberg in Los Angeles.
Emily had an artistic temperament and could find beauty in the common things around her. She appreciated the way light shone through a windowpane or a colored vase. She collected leaves and pressed them between the pages of her many books. She was an avid collector of stones, unusual pieces of wood and other natural objects.
Coming from a literary background, Emily was blessed with a love of reading. Unfamiliar or unusual words fascinated her and she had to learn their precise definitions. She wrote poems, and had a deep appreciation for music and lyrics. When the family sang together, she was the only one who could find the harmonies.
Emily was a generous soul who would gladly give her children the shirt off her back. When we visited her, we had to be careful not to leave her place laden down with her favorite earthly treasures. She was also loyal to her children and would defend us, rightly or wrongly, against a world that might not recognize our obvious perfection.
Emily was preceded in death by her husband, her parents and her four siblings. She is survived by her six children, Daniel (Dana) Clancy, of California, Donald Wilson, of Oklahoma, Lisa (James) Glueck, of Wisconsin, Jeffrey Goldberg, of West Virginia, Jennifer (Timothy) Donahue, of Hood River, and Gloria (Michael Jones) Stevens, of Washington. She is also survived by seven grandchildren: Julie, Johnny, Emily, Brian, Kevin, Kyle and Sara; and two great-grandchildren.
The family would like to thank the loving care provided by the Hood River Care Center.
As you continue your journey,
May you enjoy happiness and the root of happiness;
May you be free from suffering and the root of suffering;
May you dwell in great equanimity free from passion, aggression and prejudice;
May you be held in the gentle hands of the divine.