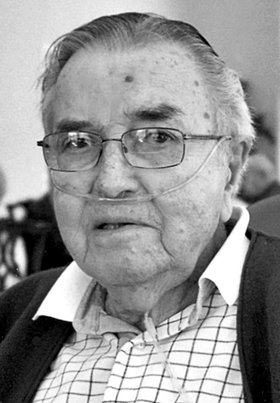 John "Bruce" Bruce Parsons
June 8, 1928 - January 12, 2009
John Bruce Parsons was born in Spokane, Wash., on June 8, 1928, and passed away Jan. 12, 2009, in Hood River, Ore., at the age of 80.
Bruce was the son of Harry and Leona Parsons, formerly of Spokane, and the younger brother of Robert Parsons, who passed away in Colorado Springs on Nov. 25, 2008. Bruce married Dianne Lucas, of Spokane, in July of 1967. They enjoyed 41 years together before Dianne passed away in 2006.
Most recently a resident of Hood River and a lifetime resident of Spokane, Bruce moved to Hood River in June of 2006 to be closer to his family. Though weak when he arrived he soon recovered his strength and enjoyed a good 2½ years with his grand children.
Bruce was a leader in school and in business. He served as student body president at Lewis and Clark High School in Spokane and as an officer in the SAE Fraternity at the University of Washington. After graduation Bruce worked in the family contracting business.
As a young man he was also interested in mining and worked in many capacities from staking claims to forming and running a number of exploration companies. Bruce loved his time prospecting for uranium around Moab, Utah.
Bruce joined the Army at 28 years old and spent 1956 and 1957 stationed in Germany. While there he toured extensively and was able to visit his mother's family farm near the Dutch German border. The farm had been in his mother's family for 700 years and he wrote a letter home describing the feeling of sleeping in his grandfather's room in Germany just 12 years after World War II.
When Bruce returned home he worked for Hughes Tool Company supplying the oil drillers with hardware in New Town, N.D. He soon returned home to Spokane and formed a contracting business with his father. Bruce and Harry then worked together until Harry died in 1976. Bruce continued on with the business and retired about 10 years later.
Bruce lived a good and full life. He had drive and toughness. He enjoyed personal and professional success, and he is remembered by friends and family with love and respect.
He is survived by his three children: Susan Pepperling, of Medford, Ore., John Parsons, of Kenosha, Wis., and Scott Parsons, of Hood River. Bruce has six grandchildren and five great-grandchildren.
A service was held for Bruce at Hawks Ridge Assisted Living Center in Hood River on Jan. 20. A second service will be held at a later date in Spokane, Wash. Bruce will be laid to rest next to his wife, Dianne, in Spokane.