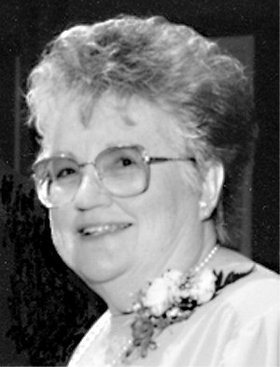 Brita Elizabeth Long
April 23, 1933 - December 15, 2008
Brita Elizabeth (Currier) Long, 75, beloved wife, mother, grandmother and great-grandmother, passed away on Dec. 15, 2008, in Spokane, Wash. She was born April 23, 1933, in Rapid City, S.D., to Alta and Walter Currier. She moved to Oregon with her family when she was 3 and lived in many places in western Oregon, including Astoria and Portland.
Her family moved to Parkdale, Ore., and she graduated from Parkdale High School in 1951. She met and married Jerome Milton Long on Dec. 17, 1955. They lived in Hood River and The Dalles, Ore., for many years, enjoying farming and raising children.
They moved to Cusick, Wash., in 1979, where they lived on the beautiful Pend Oreille River for more than 25 years. They have lived the last few years in Spokane, Wash.
Though Parkinson's disease took a toll on her body, Brita remained a life force for her friends and family. Her humor, wit and absolute love for her family carried her through the illness and represented her true spirit in life. Her family will miss her sweet voice.
She is survived by her husband, Jerome Long, of Spokane; four daughters: Brenda Corona and her husband, Daniel, of Hanford, Calif., Debra Ihrke and her husband, Bob, of Vancouver, Wash., Vikki Holman and her husband, Rik, of Cedar Crest, N.M., and Tere Clark and her husband, Warren, of Spokane; grandchildren Mathew, Caitlin and Dominique Corona, Karl and Kyle Ihrke, Christi, Sid and wife Rachael, Allison and Hannah Holman, and Jason and Mackenzie Clark; great-grandchild, Trey Corona; and numerous nieces and nephews.
She was preceded in death by her mother and father; sister, Mary Lu Currier; brothers, Walter Currier and Gerhard Currier; daughter, Christi Jo Long; and grandchildren, Amie Corona and Aaron Corona.
Her urn will be placed at Fairmount Memorial Park in Spokane. Memorials can be made to the Parkinson's Resource Center of Spokane Inc., 910 W. Fifth, Ste. 256, Spokane WA 99204, or go to www.spokaneparkinsons.org.