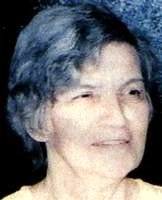 Wilma Rae Skelton
September 5, 1936 - December 26, 2008
Wilma Rae Penny Skelton, 72, of Cape Girardeau, Mo., died Friday, Dec. 26, 2008, at The Lutheran Home in Cape Girardeau.
She was born Sept. 5, 1936, in Spring Brook, Wis., daughter of John Carl and Edna Obenchine Riege. She lived in Cascade Locks and in the Hood River Valley from 1943-1954, attending Cascade Locks School and Wy'east High School.
She and William "Bill" Skelton were married June 28, 1986, in Pocahontas, Mo.
Wilma was a member of Trinity Grace Chapel in Cape Girardeau. She had worked at Florsheim Shoe and also at The Lutheran Home. She was a Cape Girardeau Central High School graduate.
Survivors include her husband, of Cape Girardeau; nine sons: James Penny, of Scott City, Robert Penny and Kevin Skelton, both of Cape Girardeau, Lee Martin, of Advance, Mo., John Martin, of Chaffee, Mo., Michael Audis and Steven Audis, of Plano, Texas, Daniel Tucker, of Perryville, Mo. and Allen Skelton, of Portland, Ore.; three daughters: Luella Harvell, of Hawaii, Linda Held, of Minot, N.D., and Pamela Breathold, of Patton, Mo.; and a sister, Darlene Etter, of Portland, Ore.; 25 grandchildren and five great-grandchildren.
She was preceded in death by her parents, a daughter and two brothers.