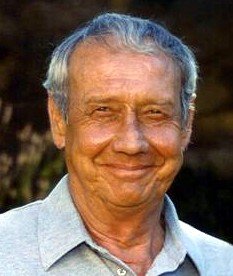 Daniel Charles Simons
June 21, 1931 - January 23, 2009
Daniel Charles Simons, 77, passed away on Friday, Jan. 23, 2009, at his home in Hood River, Ore.
He was born June 21, 1931, at Waterloo, Ore., the fourth child of Rheuben and Icie Simons. He grew up in Sweet Home, Ore., and attended high school there, where he was active in student government and played baseball. He graduated from Sweet Home High School in 1949.
When his dad died in a car accident, leaving behind a wife and eight children, Dan took part-time jobs to help support the family. Like his father, he logged, and then worked in plywood mills. His love of the woods would endure a lifetime. He made his career in the wood products industry and when he wasn't working, enjoyed camping, hunting and fishing.
After high school he joined the Army and served his country in the Korean War where he earned the rank of sergeant. In 1956, he married Jo Ann Ellen Coyne, also of Sweet Home. They had been married 51 years when she died last spring.
They had three children and raised them in Albany, Grants Pass and Corvallis.
Dan attended Portland State and Oregon State University where he studied forestry. He worked for Vancouver Plywood managing their Albany and Grants Pass mills. Later, when the company was sold and operated as Southwest Forest Products, he became a district manager for some of their Northwest plywood mills. He retired from Random Width Inc., of Albany, in the 1990s, but continued to stay current on industry news through his membership in the Plywood Pioneers Association.
A lifelong sports fan, Dan followed many teams, but none more avidly than the Oregon State Beavers. Every football season was anticipated with high hopes and expectations. He flew the Oregon State flag at his home and his copies of the Beavers' media guide were dog-eared and worn from his devoted study to players' biographies and statistics. His children have fond memories of being huddled together under plastic at rainy Corvallis football games.
Dan also enjoyed classic cars. His prized possession for many years was a Model A Ford he'd restored. He loved driving it in parades and for his daughter's wedding.
Perhaps his greatest joy, however, was his children and five grandchildren, whose activities and accomplishments he followed with much interest and pride.
Dan is survived and will be dearly missed by his daughters, Mylene Walden and her husband, Greg, of Hood River, and Marta Simons, of Hood River; his son, Mark Simons, and daughter-in-law, Debi, of Salem; his sister, Bethel Terry, of Albany; brothers Rich and Terry, of Portland, and Leo, of North Dakota; and grandchildren Anthony Walden and Hannah Simons, of Hood River, and Leeland, Kinsey, and Daniel Simons, of Salem.
A memorial service will be held at 2 p.m. Saturday, Jan. 31, at St. Mark's Episcopal Church of Hood River. Chaplain Mark Thomas will officiate and military honors performed by the Oregon Honors Team. Interment will be at Idlewilde Mausoleum of Hood River.
Memorials are suggested to either Hospice of the Gorge or the American Heart Association in memory of Dan and sent care of Anderson's.
Arrangements are under the direction of Anderson's Tribute Center (Funerals, Receptions, Cremations), 1401 Belmont Ave., Hood River, OR 97031; 541-386-1000.
Please visit www.andersonstributecenter.com to sign the family guest book.