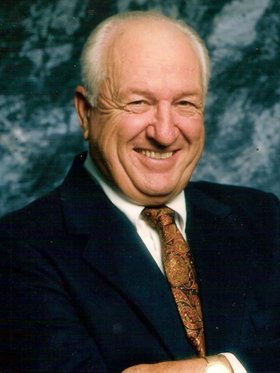 Raymond "Buzz" Leroy Horn
unknown - November 8, 2008
Raymond "Buzz" Leroy Horn, 82, of Rancho Bernardo, Calif., born in Hood River Ore., passed away Nov. 8, 2008.
Raymond was the dear father of Gary and Roger Horn and Darlene Carter; beloved grandfather of nine grandchildren and nine great-grandchildren; the younger brother of Glen Horn (deceased) of the Dalles, Ore.; and uncle, great-uncle and friend to many.
Raymond, known as Buzz to his friends, grew up in Hood River, Ore., and entered into World War II in June 1944 where he served in the Pacific until March 1946.
Upon returning to Hood River, he worked with his father and his father's brothers in their logging business until early in 1952 when he moved to Portland, Ore., where he worked primarily in the laundry business.
In 1967 he moved to Seattle, Wash., to be a plant manager with an industrial laundry, then between 1970 and 1972 he lived in Portland, Ore., and Downey, Calif., and worked as plant manager in both cities.
Late in 1972 he moved to St. Louis, Mo., to become a general manager of an industrial laundry in East St. Louis, Ill. In 1987 he retired and moved to Rancho Bernardo, Calif., where he lived and played golf with his many friends. A memorial was held Dec. 8, 2008, at Point Loma National Cemetery where he was interred. Memorials may be made to the American Cancer Society.