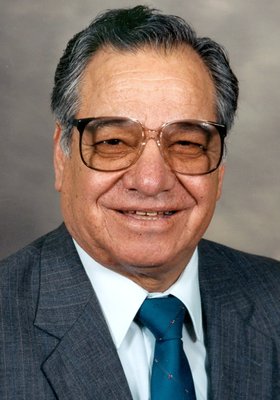 Jose Trevino Castilla
November 26, 1922 - June 28, 2009
Jose Trevino Castilla, 86, passed away at his home in Hood River, Ore., with family by his side Sunday, June 28, 2009.
A service in honor of Jose's life is planned for 10 a.m. Friday, July 3, at the Truth Tabernacle Church, 1331 Tucker Road, Hood River. Friends are invited to visit with family Thursday evening from 5-7 p.m. at Anderson's Tribute Center, 1401 Belmont Ave., Hood River. Graveside rites will be at Mt. View Cemetery. Pastor Mark Edday will officiate.
Jose and his twin brother were born Nov. 26, 1922, in Breckenridge, Texas, to Rumaldo and Sofia Trevino Castilla. He grew up in Pierdas Negras, Mexico. As a child and in his youth Jose loved to tell jokes and was a prankster, he also enjoyed dancing and laughing.
Being an identical twin really gave them the advantage through their growing-up years. One of the things the twins enjoyed was trading girlfriends, to see if they could figure it out.
On April 13, 1946, he married Maria Luisa Gaitan and to this union were blessed seven children. The family moved to the Hood River area in 1969 where they owned and operated Jose's Taco House until retiring in 1989.
Jose and Maria created the restaurant as a place for family, friends and their children to enjoy good food and celebrate many occasions. It quickly became a place where the Latino community could turn to for support and authentic cooking. The restaurant was the central hub for family and friends and you never left without eating, even if you couldn't afford it.
They loved to travel together. The highlight of their lives were their children, grandchildren and great-grandchildren. They always took time to take them on camping and fishing trips.
Jose and Maria were active members of Truth Tabernacle since 1980. They were some of the first members of the church and helped to establish the new church.
Jose was a passionate fisherman, loved fishing on the jetties on the Oregon Coast and rivers throughout Oregon and Washington. He loved to pack up his 1977 Dodge van and go on a family fishing trip. He was determined to make everyone passionate about fishing.
Jose was very involved in his community through volunteer services with DHS, driving to Portland for medical services. He established good friendships through this work, always lending a compassionate ear. He also did interpreting for the courthouse.
He not only donated his time, but would also lend a hand to those who were struggling.
Jose leaves a legacy behind; he loved his family very much and will be truly missed. Survivors include his seven children: Joe Castilla (and Chris), of Canby, Ore., Hilda Davis (and Dan), of Lansing, Mich., Sophia Loredo (and Juan), of Hood River, Ore., Carol Silva (and Raul), of Aloha, Ore., Albert Castilla (and Yolanda), of Olympia, Wash., Elizabeth Lopez (and Heracleo), of Salem, Ore., and Anna Luisa Castilla, of Salem, Ore.
Also surviving are 34 grandchildren; 31 great-grandchildren; two sisters, Juanita Villastrigo, of Mount Angel, Ore., and Ramona Castilla, of Carlton, Texas; three brothers: Wilmar Castilla, of Lansing, Mich., Ernesto Castilla, of Sunnyside, Wash., and Francisco Castilla, of San Antonio, Texas; and many other distant family members and many, many friends that he has collected over the years.
In addition to his parents he was preceded in death by his wife on Feb. 13, 1994, and their firstborn child, Maria Guadalupe, in 1947.
Arrangements are under the direction of Anderson's Tribute Center (Funerals, Receptions, Cremations), 1401 Belmont Ave., Hood River, OR 97031; 541-386-1000. Please visit www.andersonstributecenter.com to sign the family guest book.