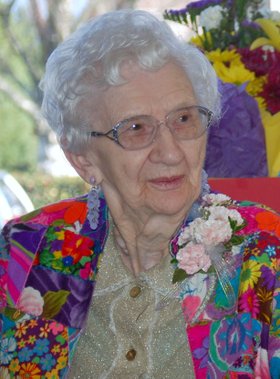 Lillian Hope Butzin
November 15, 1917 - June 29, 2009
Services will be held on Friday, July 3, at 10:30 a.m. at the Pine Grove Methodist Church for Lillian Hope (Weber) Butzin, who died June 29, 2009, at Willamette Lutheran Retirement Community in Keizer, Ore. Graveside services will follow at 1 p.m. at Pine Grove Cemetery.
Lillian was born Nov. 15, 1917, in Odell, Ore., to Walter Nast Weber and Sylvia May (Jones) Weber. She graduated from Odell High School in 1936.
On June 2, 1946, she married Kenneth Butzin and they settled on the Butzin family farm in the Pine Grove area of Hood River County. Over the years she helped with the family apple and pear growing operation, both in the orchard and as bookkeeper.
The couple moved to Sublimity, Ore., in August 1988 after retiring from the farm. They moved To Willamette Lutheran Retirement Community in Keizer in 2002. Kenneth died on Feb. 11, 2006.
Before her marriage, Lillian held various jobs in fruit packing plants in Odell, as a clerk for Hood River County and as a bookkeeper for Hood River Grange Supply. She wrote the Pine Grove column in the Hood River News for about 20 years from the 1950s to 1970s.
She was a member of the Odell, Pine Grove, Lyons and Jason Lee Methodist Churches. She served as pianist and organist at Odell, Pine Grove and Lyons. She and her husband led the Methodist Youth Group at Pine Grove in the 1950s.
Lillian was a member of the Pine Grove Amicus Club and Women's Society in Christian Service, a Methodist women's organization.
She is survived by daughters Sylvia Butzin, of Portland, and Corinne Butzin, of Corvallis; daughters and sons-in-law Alesanne and John Dugan, of Lebanon, and Lianne and Jim Hargie, of Salem; grandsons Dennis Dugan, of Corvallis, and Kevin Dugan, of Portland; brother and sister-in-law Ted and Verna Weber, of Odell; sister-in-law Martha Ann Weber, of Odell; nieces and nephews Gary Weber, of Welches, Marilyn Hillbury, of Gresham, Annette Stearns, of Boring, Joel Butzin, of Delta, Col., Nancy Greene, of Auburn, Wash., and Ruth Coburn, of Omaha, Neb.
She was preceded in death by her brothers, Walter and John; sisters-in-law Eleanor Weber, Ethel Butzin, Leila Butzin, Maura Butzin and Betty Lou Butzin; and brothers-in-law Jim Butzin, Walt Butzin and Don Butzin.
Memorial contributions to Pine Grove/Odell United Methodist Church or the Oregon/Idaho United Methodist Camping Program may be sent to Anderson's Tribute Center (Funerals, Receptions, Cremations), 1401 Belmont Ave., Hood River, OR 97031; 541-386-1000. Please visit www.andersonstributecenter.com to leave a note of sympathy for her family.