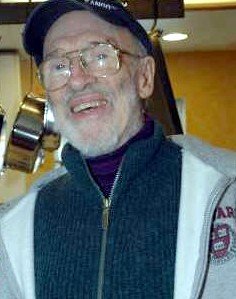 Charles Ransom Hooper
June 22, 1930 - June 26, 2009
Charles Ransom Hooper, of Richland, Wash., died at home on Friday evening, June 26, 2009, with his family and hospice caring for him. After his diagnosis of pancreatic cancer in January, he enjoyed about four months of tennis with friends at the Court Club and many visits from family and friends.
Charles was born June 22, 1930, in Des Moines, Iowa, to parents Charles Hooper and Gertrude Burnett Hooper. At age 18, his family moved to Long Beach, Calif., where he graduated from Cal State Long Beach.
After teaching for two years in California, he wandered to France and taught on the American base at Etain. In 1958 he met and married Beverlee DeBode, and then they moved to an Air Force base in England, where they worked in the overseas schools.
After 20 years in Europe, Charles and family moved back to the U.S. and settled in Husum, Wash., where they planted a vineyard and established the Charles Hooper Family Winery. He retired and moved to Richland 12 years ago.
Charles is survived by his wife, Beverlee; daughter Jan Bostian and son-in-law Paul, of Spokane, Wash.; son Chris Hooper and daughter-in-law Aymee, of White Salmon, Wash.; and daughter Kim Cutsforth and son-in-law Jerry, of Richland, Wash.
He is also survived by and was very proud of his grandchildren, Zachary and Rachel Frazier, Ryan Cutsforth and his wife, Erika, and Desi and Charlie Hooper.
The family appreciates the sensitive and efficient care of Cleo, Amy, Kirk and staff of Hospice at the Chaplaincy in Kennewick. We also appreciate the kindness of his fellow tennis players who made him feel welcome to play as long as he was able.
In lieu of flowers, a donation to Hospice at the Chaplaincy would be appreciated. Charles requested cremation. Please visit Einan's Web site to express thoughts. The family will be at home on July 18 between 1 and 4 p.m. for friends who wish to share memories and stories about Charles.