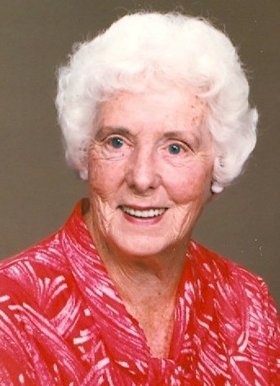 Alice Anita Ozanick
August 14, 1912 - July 6, 2009
Alice Anita Ozanick, 96, died July 6, 2009, at Hawks Ridge Assisted Living in Hood River, Ore.
Alice was born Aug. 14, 1912, in Far Rockaway, N.Y., to Charles and Josephine (Haas) Spiers. She was raised and educated in New York, graduating from Washington Irving High School in Brooklyn, N.Y., in 1930.
Following high school she worked for an insurance company until moving to California in 1936 to marry her sweetheart, Bill Grundlach, who had moved west earlier and found work in a lumber mill. Together they raised three sons and called Coeur d'Alene, Idaho, their home for most of that time. Alice was a wonderful homemaker, ensuring that the boys had a broad-based education; growing a large garden every year, and canning fruit, berries and vegetables. Her dinners brought the family together every evening and ended with desserts made from "scratch."
Her favorite pastime was swimming. She especially enjoyed free time at Sanders Beach in Coeur d'Alene, where she became buddies with many neighborhood youngsters; teaching them to swim or just exchanging stories.
Her young friends soon gave her the nickname "Brooklyn," reflecting their endearment for her and noticeable accent on her part.
After the boys were all in college, she was off on her own and back to work. She married Steve Ozanick in October 1963. They traveled often, near and far, and relaxed by fishing the lakes of Washington and Idaho and visiting with family.
She continued to enjoy gardening, swimming and traveling through her later years and in 2004 settled in Hood River to be more centrally located to family.
She is remembered as a wonderful mother by her sons Bill and his wife, Joan; David and his wife, Mae, and Paul (Tyke) and his wife, Joyce. She is also survived by three grandsons and four great-granddaughters.
Memorial contributions may be made to Hospice of the Gorge in care of Anderson's Tribute Center (Funerals, Receptions, Cremations), 1401 Belmont Ave., Hood River, OR 97031; 541-386-1000. Please visit www.andersonstributecenter.com to sign the family guest book.