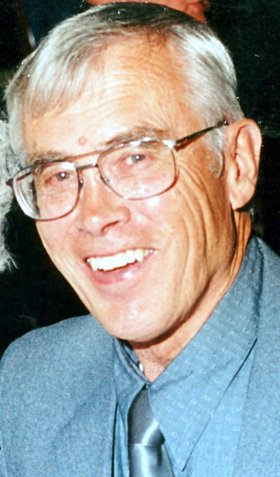 George Emerson Woodruff
February 22, 1926 - July 13, 2009
Lifelong Trout Lake, Wash., resident George Emerson Woodruff passed away at his home on July 13, 2009, the place of his birth and where he and his wife raised their family. He was 83 years old.
George was born in Trout Lake on Feb. 22, 1926, to Elva (Pearson) and Ralph Emerson Woodruff. He graduated with Trout Lake School's Class of 1944 and entered into military service in World War II, serving in the Pacific Theater as an Army engineer.
In 1950, George met the love of his life, Aimee Mulligan, and they married in 1952.
George possessed gifted and inspiring devotion to his professional endeavors. His earlier years saw him working for and soon owning his family's business, Mt. Adams Lumber Company, in Trout Lake. He was one of the original founders of the Mt. Adams Loggers Association, and later enjoyed working alongside his son David and son-in-love, Fred Paxson.
In addition to being a respected woodsman, George was popularly known as an aviator. Flying was his passion, and he felt at home in the sky, logging more than 10,000 hours during his career.
In the early 1970s he founded Woodruff Aviation, where he provided charter flights around Mount Adams and Mount St. Helens, air taxi services, and aerial detection services for the Gifford Pinchot and Mt. Hood National Forests, with which he had contracted for more than 25 years.
He loved airplane noise and often remarked that he enjoyed flying so much that he felt a bit guilty being paid for it. Through the years, George was a flight instructor and taught several local area pilots how to fly.
George exuded an exceptionally methodical, dependable and enduring work ethic, whether he was working at his tree farm, at the saw mill or flying over the Cascades.
Beyond his professional interests, George was a pillar of his community, serving on the school board, community council and on the board for Glacier Springs. He was also a member of the Trout Lake Grange and American Legion and very active in the First Presbyterian Church, where he served in the church session and as a second-generation bell ringer.
A tender and committed family man, George enjoyed traveling with family and outdoor fun. He loved being a grandfather, and his family often joked that George was a "little boy in a grandpa suit."
He is survived by his wife, Aimee; daughters Karen Woodruff and Diane Paxson; and son, David Woodruff, all of Trout Lake; nine grandchildren: Alyssa Merrill, of Portland, Dustan, Brandon, Bradley and Donovan Woodruff, and Spencer, Adam, Michael and Emily Paxson, all of Trout Lake.
He was preceded in death by daughter Kathleen Merrill, grandsons Benjamin James Merrill and Christopher Merrill, brothers David and Rollie Woodruff, and sister Nancy Ruth Parrish.
A celebration of life will be held at 4 p.m. Sunday, Aug. 2, in the Trout Lake School gymnasium. In lieu of flowers, the family suggests memorial contributions be made to the First Presbyterian Church, P.O. Box 210, Trout Lake, WA 98650; Hospice of the Gorge, P.O. Box 36, Hood River, OR 97031; or Trout Lake Community Foundation, P.O. Box 322, Trout Lake, WA 98650. Gardner Funeral Home is handling arrangements.