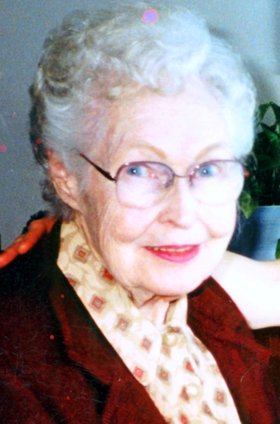 Aurabelle "Belle" M. Shelhorse
August 14, 1918 - July 23, 2009
Aurabelle "Belle" M. Shelhorse died peacefully July 23, 2009, at the age of 90, just a few weeks before her 91st birthday. She was born in The Dalles, Ore., on Aug. 14, 1918. She was a resident of Underwood, Wash., for many years, prior to moving to Brookside Manor in Hood River, Ore., three years ago.
Belle grew up in The Dalles, and received her education and training as a nurse in 1940. She served as a Navy nurse before marrying George W. Shelhorse in 1943. He preceded her in death in 1991.
Belle and George made their home in Springfield, Va., for many years, before retiring to the Gorge in the mid-1970s.
Belle loved gardening and entertaining, and had a wonderful sense of humor and zest for life. She was a longtime member of St. Mark's Episcopal Church in Hood River.
Belle will be missed by her many extended family and friends. They wish to express a special thanks to the staff at Brookside Manor Assisted Living Facility, and to Hospice of the Gorge, for providing such wonderful care to Belle. Donations in her memory may be made to Hospice of the Gorge.
A memorial service will be held at a later date. Arrangements are being made through Gardner Funeral Home in White Salmon, Wash.