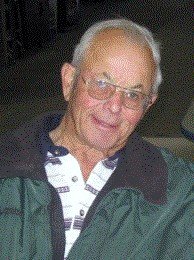 Marvin Sagnotty
May 29, 1927 - July 22, 2009
May 29, Nineteen twenty-seven
He was born that lovely day
July 22, Two thousand and nine
Death took him away
Eighty-two years he walked this earth
Seeing as much as he could see
Now he walks with us no more
In his Spirit he is free
His fragile body, tired and worn
No longer traps him in
Free from pain and earthly bonds
A new journey for him begins
Remember him well, this gentle man
A good friend to those he knew
Be kind and good and love each other
Just as he loved you.
Marvin Sagnotty moved his family from Tillamook, Ore., to Hood River in 1960. He lived in Hood River and made many, many friends throughout his career of selling insurance, and through involvement in the Jaycees, Elks Club and Lions Club.
He lived in Hood River until moving permanently to Yuma, Ariz., in 2005. He was a kind and honest and good man. He died in his Yuma home with the love of his family to hold him gently through his last hours.
Marvin is survived by his wife of 60 years, Velma, and four children: Steve, Dwynn, Cliff and Dawn.
In lieu of flowers or donation, please give your love and time to someone who needs a friend, a helping hand, or needs to know you care and that they matter.
A memorial service will be held Friday, Aug. 14, at the Hood River Valley Adult Center.