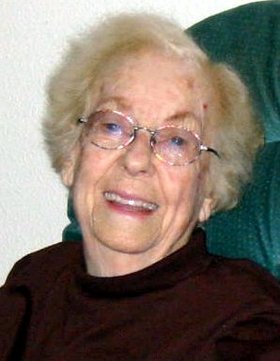 Helen T. Davidson
February 18, 1916 - May 29, 2009
Helen T. Davidson, 93, a 40-year resident of Hood River, passed away Friday morning, May 29, with her family at her side.
Helen was born in Twin Valley, Minn., on Feb. 18, 1916, to Hans and Thea Bueng. She was the youngest of 10 children and the last surviving sibling.
Helen grew up and attended school in Twin Valley. On June 24, 1937, she was married to Donald E. "Dick" Davidson. They resided in Ada, Minn., and it was there they had their first child, a daughter, Diane.
During World War II the family moved to the West Coast where Helen's husband worked for the shipyards. In 1945 they moved to Bottineau, N.D., where Helen and her husband owned and operated several businesses.
Helen was fortunate to not have to work outside the home, but did all the bookwork for the business. And she was very good with numbers: Helen used to add a column of numbers in her head and couldn't understand why her daughter couldn't do the same!
Helen and her husband started their second family in Bottineau when Diane was 15 years old. Bob was born and Helen had a built-in baby sitter.
When Helen's husband retired in 1969 they decided to move to Hood River, Ore., to be closer to Diane and her family and enjoy their grandchildren.
Helen was one who always loved her home and did not have a desire to go many places. She was happiest at home. She was a wonderful homemaker who loved to cook and bake.
While residing in Bottineau, every afternoon a group of ladies in her neighborhood would get together for their coffee klatch and Helen missed that when they moved to Oregon.
Helen's husband, Dick, passed away in 2000 and Helen stayed in her home for a few years. In December of 2003 Helen moved to Down Manor.
In September 0f 2004 Helen moved to Brookside Manor, where she has lived since. She was so loved by all her caregivers there and her family will forever be grateful for the wonderful care she received while living there.
Helen is survived by her daughter and son-in-law, Diane and Dean Kleinsmith, and son and daughter-in-law, Bob and Beri Davidson. She is also survived by five grandsons, Mike and Dan Kleinsmith, both of Hood River, Scott Kleinsmith, of The Dalles, and Jonathan and Nathan Davidson, of Portland; and one granddaughter, Kris Peters, of Brush Prairie, Wash. She is also survived by nine great-grandchildren.
Funeral services for Helen will be held June 6 at 10 a.m. at Our Redeemer Lutheran Church, 1140 Tucker Road, Hood River. Interment will be at Idlewilde Cemetery in Hood River.
Memorials in Helen's memory may be made to Hospice of the Gorge in care of Anderson's Tribute Center (Funerals, Receptions, Cremations), 1401 Belmont Ave., Hood River, OR 97031; 541-386-1000. Please visit www.andersonstributecenter.com to leave a note of sympathy for her family.