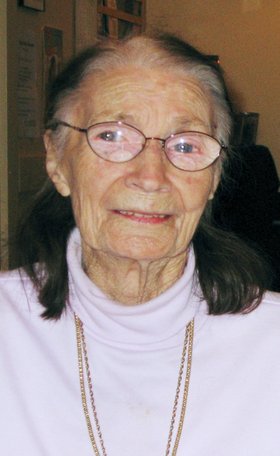 Pearl Lavina Towle
July 18, 1910 - May 21, 2009
Pearl Lavina Towle, 98, passed away May 21, 2009, at Hawks Ridge Assisted Living, in Hood River, Ore., with her niece by her side.
A memorial service will be held at 10:15 a.m. on Monday, June 22, at Hawks Ridge.
Pearl was born July 18, 1910, at White Cloud, Kansas, to Charles Raymond and Lucy Emiline (Brown) Rouse. Her father preceded her in death when she was a very young child.
Pearl was an independent woman; she had many loves in life and was a collector of friends. She was a gifted seamstress, and enjoyed making many articles of clothing for family and friends over the years.
Pearl was also talented in the kitchen as shown by her decorating of cakes, making candies and all kinds of other goodies. Collecting tea cups and saucers was a passion of hers and by the time of her death she had at least a couple hundred. They are all very special and beautiful.
Pearl loved entertaining friends and family and she loved a good party. She and her husband, Elwin, were members of the Elks Club, Elwin having served as Exalted Ruler.
Her family has such fond memories of her Christmas Eve celebrations. She loved giving and receiving gifts; no one could take as long as Pearl to open a gift.
Pearl worked in many capacities over the years, but her fondest memories were of the bar and restaurant that she owned and operated from 1945 to 1947 in Portland. She then traveled with her daughter Jan to Alaska to join her husband. She ran a mess hall, feeding the men who worked on the Alaskan Canadian Highway.
Pearl was a consummate lady, and even in her 90s was very concerned about her appearance, her attire, and dressed to the nines on every occasion. Her nails were always beautifully groomed and polished and if they weren't she always asked someone to help her. She had many friends at Hawks Ridge, including both the professional staff and residents.
Pearl is survived by her daughters, Edith "Jan" Burum Bell, of Kansas, and Tia Towle, of Portland, Ore.; sister and brother-in-law Janie and Red Brauckmiller, of Hood River; many grandchildren, great-grandchildren, nieces, nephews and friends — too many to list.
In addition to her parents she was preceded in death by her husband, Elwin Towle; her son, Robert Burum; and two brothers, Harold Rouse and Blair Jarvis.
Arrangements are under the direction of Anderson's Tribute Center (Funerals, Receptions, Cremations), 1401 Belmont Ave., Hood River, OR 97031; 541-386-1000. Please visit www.andersonstributecenter.com to sign the family guest book.