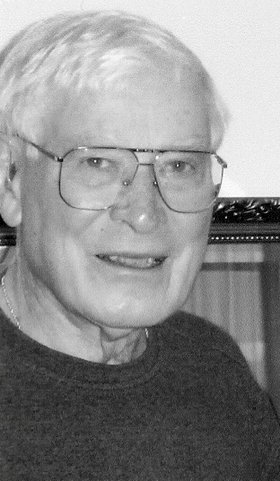 Clifton Edgar Graber
February 16, 1917 - May 21, 2009
Clifton Edgar Graber, 92, passed away peacefully on Thursday, May 21, 2009, at his home in Hood River, Ore., with devoted daughters and families in close attendance.
A longtime resident of Kennewick, Wash., Clifton was born in the family's orchard home in Wapato, to James and Gertrude Graber on Feb. 16, 1917. He attended and graduated from schools in Wapato.
Clifton completed three years of college at Washington State University before joining the Army Air Corp. He met his future wife, Opal, on a blind date and they were married three years later in Yakima on July 11, 1942.
Clif and Opal enjoyed 64 years of a loving and devoted marriage. The day of their wedding, they hopped into a car with their friends and drove day and night to catch a train to Savannah, Ga., so that Clif could report to duty in the U.S. Army Air Corp as a second lieutenant.
They were stationed also in DeRidder, La., and Rice, Calif., until 1943, when Clif was shipped overseas to serve our country in World War II in the Southwest Pacific.
During the war, Clif flew his A-20 Bomber, "Olga" (Opal's middle name) on 13 fighter missions and 90 bombing and strafing missions. Promoted to the rank of major and then lieutenant colonel, Clif received many honors during his service, including two Distinguished Flying Crosses and two Air Medals.
Maj. Graber was the 389th Squadron Commanding Officer and then moved to the 312th Bomb Group headquarters as group operations officer. He continued dual duty: Major Graber (his men referred to him as "Smiling Jack") inspired his troops and continued to lead the 389th in combat, as his successor had no combat experience.
As squadron leader, Major Graber was proud that all men flying in his squadron returned safely to base after each mission.
Clif and Opal exchanged letters every day, until Clif returned home from war. Following the war, they settled in Yakima and Clif was hired to work for Yakima Hardware.
In 1951, Clif, Opal and three daughters moved to Kennewick, where they resided for 58 years. Mr. Graber was the hardware manager at Washington Hardware.
In the early 1960s, he worked as an insurance agent for American Hardware Mutual. From the 1970s until he retired as an Associate Broker at the age of 80, he worked in residential and commercial real estate. He was active in community service in the Tri-Cities. For a number of years he was a member of Kiwanis and served on the Kennewick City Council.
Clif was loved and highly esteemed by family, colleagues and friends. He loved golfing, fishing and hunting with sons-in-law, friends, nephews and brother and vacationing with family on camping trips. He and Opal enjoyed playing bridge and were longtime members of a local bridge club. In late 2008, Clif moved to Hood River, Ore., near daughter Janet's home.
Clif is survived by daughters and sons-in-law Janet and Jim Hamer, of Hood River, Ore., Dorothy and Rick Lyle, of Keizer, Ore., and Carol and Lynn Carlson, of Naches, Wash.; grandchildren: Kathleen (Mansfield) and Dale Wolfley, Jennifer (Mansfield) Garber, Mary Ann (Carlson) and Robert Elizondo, Caroline Mansfield, Jim Mansfield, Bjorn and Alina Carlson, Jamie and Amanda Hamer, Patrice and Dan Luneski and Kristen and Jack Reakoff.
He is also survived by great-grandchildren Lyla Carlson, Beth Elizondo, RJ Elizondo, Douglas Rogers, Delaney Rogers, Taylor Ann Garber, Stone Wolfley, Maverick Wolfley, Carly Mansfield, Wyatt Egeland, Jaden Wolfley, Talley Wolfley, Emilio Elizondo, Abi Hamer, Livvy Hamer, Zoe Egeland and Kyle Garber; and great-great-grandson, Austin Elizondo.
Also surviving are his sister, Doris Graber; brother and wife Grant and Ruth Graber; nephews and wives Gary and Peggy Graber and Guy and Trish Graber; and great-nephews and nieces.
He was preceded in death by his wife, Opal Olga Norgard Graber, in 2006, and by his parents, Gertrude and James Graber; and nephew Jimmy Graber.
A private family gathering has been held. A small inurnment ceremony was held on Monday, June 8, at the Desert Lawn Memorial Park Mausoleum in Kennewick.
The family gives heartfelt thanks to Providence Hood River Memorial Hospital, Oregon Veterans Home, mid-Columbia Medical Center, Parkhurst House and Heart of Hospice.