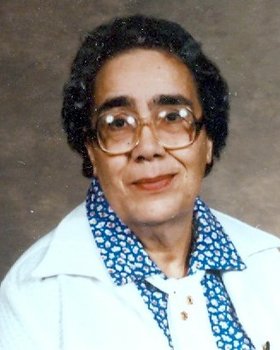 Mary Ann Allen
March 26, 1927 - June 12, 2009
Mary Ann Allen went home to be with her Lord and Savior on June 12, 2009, at her daughter's home in Parkdale, Ore.
Services will be held on Saturday, June 20, at 11 a.m. at the Hood River Alliance Church.
Mary was born on March 26, 1927, in Roseburg, Ore., to Luther and Ida Pearl (Perkins) Spencer. She was the youngest of 11 children.
At birth, Mary was named Elizabeth Ruth. When she was 4 years old her mother died, and a few months later she went to an orphanage in Portland. When she was 5 years old, she was adopted by Harold and Mamie Hardin, who changed her name to Mary Ann.
She grew up in Portland, graduating from Grant High School. Mary graduated from Oregon College of Education with a Bachelors of Arts degree.
In 1951 she married Joseph Allen. They had one daughter and three sons. In 1980 Mary and Joe were divorced. Mary taught school in Oregon and Idaho for many years. She was especially successful at helping children who were struggling with reading. She also gave each of her own children a great love of books.
Mary's first love was her Lord Jesus. After Him she adored her children, grandchildren and great-grandchildren. She loved reading, gardening, spending time in the woods and hills, and being with her family.
Mary is survived by her children, Cindy Rovig and husband Marlyn, of Parkdale, Ore., Gene Allen and wife Carrie, of Middleton, Idaho, Monte Allen and Robert Allen of Nampa, Idaho, and daughter-in-law Cecilia Allen, of Memphis, Tenn.
She is also survived by grandchildren Shaun Rovig and Shane Rovig, of Hood River, Camille Fitzpatrick, of Boise, Idaho, and Cameron Allen, of Nampa, Idaho; granddaughter-in-law Vanessa Rovig; great-grandchildren Cameron and Caitlin Rovig, of Hood River; and honorary great-granddaughter Kaleeyah Quinata.
Mary was preceded in death by her parents and all of her siblings, and granddaughter Rose Lynn Rovig and grandson Shannon James Rovig.
Thank you to Mary's caregiver, Marissa Quinata, Dr. Paul Hamada, Home Health and all of the staff at Parkhurst House.
Memorial contributions may be made to the Pregnancy Resource Center in care of Anderson's Tribute Center (Funerals, Receptions, Cremations), 1401 Belmont Ave., Hood River, OR 97031; 541-386-1000. Please visit www.andersonstributecenter.com to leave a note of sympathy for her family.
Mary will be deeply missed by her family and friends, but we know we will see her again. In Mary's own words:
Farewell Party
We're having a party for Mary,
Bon voyage, auf Wiedersehen,
Sorry she couldn't tarry,
She left on the early train!
She left her prayers and her love,
She wouldn't take those away,
She'll be waiting on that shore above,
Whenever we go to stay!
The first hug goes to our Savior,
The second to family true,
But, Mary will be waiting, friends,
For a great big hug from you!