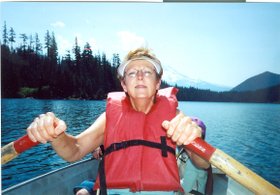 Glenda Lee Taylor
October 23, 1942 - June 19, 2009
Glenda Lee Taylor, 66, beloved mother, daughter, sister, grandmother, aunt and friend, passed away unexpectedly on June 19, 2009, subsequent to a brain aneurysm.
A fourth-generation Oregonian, Glenda grew up in Hood River, Ore., spending occasional winters with her parents and siblings in Enterprise, where logging work awaited.
In 1961, she graduated from Hood River High School, where she met Tyrone K. Taylor, to whom she was married for 20 years and with whom she had three children: Shelley, Andy, and Jason. Among the special times they shared, favorite memories included drives through the countryside, parties at the Elks Club, attendance at the Firemen's Ball, getaways to Northwestern Lake — where Glenda and Ty had a cabin — and family trips to Disneyland.
As a parent, Glenda instilled in her children the deep-rooted sense that they could succeed at anything to which they became committed. Through her devotion in raising them and her own perseverance, she encouraged them to set high goals for themselves and to achieve these through hard work.
She taught them to be self-reliant, independent persons, but also to lean on loved ones and to celebrate the meaning of family. Often assuming the role of both mom and dad, she made it her job to pass along these values, to introduce her children to special places and new adventures, and to accompany them in each of their undertakings.
She showed unwavering support as she cheered on her daughter's swim team, as she led a 4-H sewing troupe, and as she blossomed into a ski mom, who was ever-present on the hill at her son's ski races, despite the long hours in the cold.
Her courage, love, and dedication as a mother were apparent also in the way she cared for her precious middle child, Andy, who struggled with leukemia and passed away at age 4.
Her children were the light of her life, but she also had a deep love of family in general. Glenda was very close to her parents, June and Allan, whom she spoke to or visited daily. In recent times, as they transitioned from living at their home to staying at Down Manor, she had been attentive to ensuring that all their needs were being met.
With her siblings, Glenda shared many passions and interests, but more importantly a close friendship. She had a great admiration and appreciation for her brother, David, as well as a privileged intimate relationship with her sister, Becky.
Over the course of her life, Glenda held a number of different jobs. She was a dental hygienist, a shoe clerk at Nordstrom, a fruit packer at Diamond Fruit, and a quality control manager at Hood River Distillers. She spent the majority of her professional career in this latter job, devoting herself the maintenance of high standards and the development of new products at the distillery.
She was proud of being a hard-working, applied employee, who took her responsibilities seriously, and found much satisfaction in the relationships she developed over the years with all her co-workers. By some of these colleagues, she is remembered not only as a friend, but also as a leader, a mentor and an advocate.
An avid gardener with an exceptional green thumb, Glenda made her glorious flower and hosta beds bloom every year. Family and friends looked forward to enjoying garden walks that afforded a chance both to catch up and to take in the myriad of colors.
At her son's wedding, in 2005, Glenda grew and arranged all of the flowers with help from her daughter and sister. Her work was beautiful and contributed a memorable personal touch to this special occasion.
Glenda's creativity and artistic qualities extended to other spheres, as well. Indoors, she displayed her resourcefulness, good taste and sense of design in countless home renovation and sewing projects. A wonderful cook, she frequently opened up her home to family during the holidays for joyous and festive meals.
Outdoors, she captured her surroundings through her painting and landscaping.
In her two years of retirement, Glenda engaged in various hobbies, including those listed above, antiquing, collecting "Martha green" pottery, and visiting garage sales in search of the occasional great find. She acquired Moe, a Great Dane puppy, who became her inseparable companion.
In addition, she developed an adventuresome spirit and a new appreciation for travel that took her to destinations including Ireland and Scotland with her sister, to Chicago with her children, and to France with her son and daughter-in-law. On these journeys, she discovered castles, medieval cities, breathtaking views and new cultures with which she felt a certain kinship. She also had visited Mexico, Sainte Croix, and Barbados.
The place that left her in the most awe, however, was Hood River, where she lived her entire life. Mount Hood, the woods and her garden were spiritual places for her, the beauty of which never ceased to amaze her.
She came in communion with nature through daily long walks along the orchards near her home and through annual family trips to Lost Lake, which she began taking as a young girl.
There was a lighter side to Glenda, also. She loved to laugh, be spontaneous, share conversation and a glass of wine with family and friends, listen to music and dance. Her playfulness was contagious in these moments — and she used this to good ends, to raise other people's spirits and to introduce those about whom she cared, particularly her three grandchildren, to new ways of having fun.
Glenda is survived by her daughter, Shelley Wate, son-in-law Shawn, and grandchildren Ryan, Ashley, and Eric; by her son, Jason Taylor, and daughter-in-law, Sara Taub; by her parents, June and Allan Campbell; by her brother, David Campbell, sister-in-law, Linda, and nieces Erin Campbell, Mandy Campbell-Betz (Johnny), and Madison Fisher; by her sister, Becky Smith, and brother-in-law, Jerry; as well as by many cousins, aunts, uncles, and friends.
She was preceded in death by her son, Andy, next to whom she was laid to rest.
A private graveside ceremony was held on Sunday, June 21. A celebration of her life will be held at her home on Saturday, July 4, at 9 a.m. The family invites all who knew her to come and share memories, photos and stories, as well as breakfast during the course of the morning at 4710 Portland Drive.
In lieu of flowers, the family invites donations to the Leukemia and Lymphoma Society (9320 S. W. Barbur Blvd., Ste. 140, Portland, OR 97219) or 4-H Leaders Association (2990 Experiment Station Drive, Hood River, OR 97031) — organizations that Glenda had supported in her life.
Arrangements are under the direction of Anderson's Tribute Center (Funerals, Receptions, Cremations), 1401 Belmont Ave., Hood River, OR 97031; 541-386-1000. Please visit www.andersonstributecenter.com to sign the family guest book.