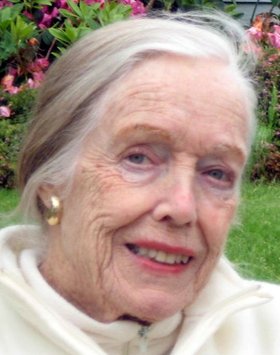 Jean Palmer Dills
unknown - June 19, 2009
Jean Palmer Dills passed away on June 19, 2009, in Hood River, Ore.
Jean was born in New Rochelle, N.Y., in 1923, the youngest daughter of Joel and Ruth Palmer. She attended public schools in New Rochelle until high school, when her family retired to Bennington, Vt., and sent Jean to Stuart HallJean went on to attend Stuart Hall, a boarding high school in Virginia.
After graduating from Stuart Hall, she attended Smith College, graduating early with the class of 1945A with a Bachelor of Arts degree in history.
Jean met her husband, Bob Dills, on a blind date while at Smith. In 1945, following Bob's World War II tenure in the Pacific, the couple wed. They made their first home in Tarrytown, N.Y. Bob went to work for General Foods while Jean worked in a doctor's office.
Bob's work career with General Foods required many moves. The couple moved to Alexandria, Va., where son Rick and daughter Barbara were born in 1950 and 1952, respectively. From there they moved to Needham, Mass., where their youngest child, daughter Peggy, was born in 1956.
Soon afterIn 1958 they moved to Oakbrook, Ill., where Jean was active on the school board and served as a Camp Fire Girls troop leader. In 1962 theyThey moved to Wilton, Conn., in 1962, where they lived until Bob's retirement.
In 1982 they moved to McMinnville, Ore. In each community in which they lived, Jean was known for her intellect, enthusiastic volunteerism, culinary prowess and flaming red hair.
After moving to Wilton, and with all three children enrolled in school, Jean turned her life long love of dogs into an avocation, and then a vocation. She was known far and wide as a serious breeder of beagles. raised beagles and She showedhad great success showing her dogs at dog shows throughout the eastern United States, eventually becoming a nationally respected dog show judge.
When Jean and Bob moved west to McMinnville in 1982 to be closer to their three grown children —, who had all settled in Oregon by that time — the dogs moved with them. Jean remained active in the dog world here in the Northwest.Many a motel owner was surprised when their caravan pulled in at night, and myriad beagles poked their noses out the windows of the cars.
Jean and Bob spent many happy years together in McMinnville, and made many dear friends there. They were active members of Michelbook Country Club, great supporters of Linfield College, and champions of the Oregon Food Bank.
Bob died in April 2007. Jean remained in McMinnville, living at Hillside Assisted LivingRetirement Community, until her health declined and her children moved her to Hood River in August 2008 to be closer to them.
In her brief time in Hood River she made friends with all her dedicated and loving caregivers and the staffs of Providence Home Health and Hospice of the Gorge.
Jean is survived by her son, Rick, of Hood River, daughter-in-law, Jean, and grandsons Nick and Pete; her daughter Barbara, of Portland, and grandson, Nathan; and her daughter Peggy, of Hood River, son-in-law, Jim Kelter, and granddaughter, Rose.
Jean will be buried at Evergreen Memorial Park Cemetery in McMinnville next to her beloved Bob. Memorials in Jean's memory may be made to [Hospice of the Gorge]Hospice of the Gorge or Oregon Food Bank, in care of [Anderson's Tribute Center, 1401 Belmont Drive, Hood River, OR 97031.]Anderson's Tribute Center, 1401 Belmont Ave., Hood River, OR 97031.
Arrangements are under the direction of Anderson's Tribute Center (Funerals, Receptions, Cremations), 541-386-1000. Please visit www.andersonstributecenter.com to sign the family guest book.