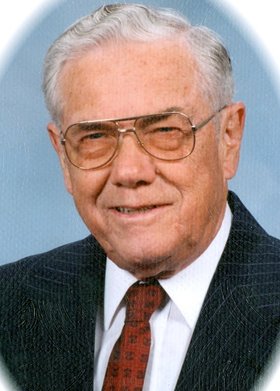 Edward Hugh Clarke
November 16, 1919 - June 20, 2009
Edward Hugh Clarke was born on Nov. 16, 1919, and was raised on a farm in Clinton County, Iowa, and attended school in Elwood, Iowa. He was one of four children: John, Marion, Ed and Lois.
He worked his way through college while attending Iowa State College in Ames, Iowa, where he received a Bachelor of Science degree in forestry in 1942. From 1942 to 1945 he was a naval aviator in the U.S. Navy during World War II, and specifically was an instrumentation instructor.
He met Theola Mortvedt in 1941 in Ames, Iowa, and they were married on April 1, 1944, and celebrated their 65th wedding anniversary in 2009. While stationed at the Melbourne Naval Air Station in Florida, their first daughter, Pamela Dee, was born in September 1945.
He continued his graduate studies at the University of Arkansas in Fayetteville and graduated with a master's degree in 1948 from Syracuse University in New York. While in Arkansas, their second daughter, Margaret Ann, was born in January 1947.
He taught forestry at Tennessee University in Knoxville prior to joining the U.S. Forest Service in Madison, Wis., in 1950. From there he served more than five years in Portland, Ore., followed by 10 years in Washington, D.C.
Before accepting other work transfers, he held out for another position in the Pacific Northwest and moved back to Portland in 1971. He retired in 1980, but enjoyed meeting his work associates for coffee and attending events with the 30-Year Forestry group.
He and his wife, Tee, served as escorts in the Odyssey Travel Club and were able to travel extensively around the world and throughout America. Besides travel, he enjoyed camping, fishing, reading, golf, his small woodworking shop, and was an avid TV sports fan and news junkie. He had a strong religious faith and was a member of Calvin Presbyterian Church in Tigard, Ore.
He is survived by his wife, Tee, and daughters Pamela C. Simpson, of Annandale, Va., and Margaret C. Jacobson, of Trout Lake, Wash.; as well as two sons-in-law, Andrew Jacobson and George Baroniak.
He also leaves three grandchildren: Danielle Bourdo (and husband Mark), of Fenton, Mich., Dane Jacobson, of Trout Lake, Wash., and Darrin Jacobson (and wife Amanda), of Acton, Calif.; and eight great-grandchildren: Calvin, Dane and Aidan Bourdo, Ty and KayLeigh Jacobson and Chase, Andrew, and Nathan Jacobson.
His favorite expression was "wood is good" and plastic toothpicks were verboten. His favorite color was orange. It was hard to separate him from his little dog, Molly, who was constantly at his side.
He died of natural causes on June 20, 2009, at his home in Hood River, Ore. Two Celebration of Life services are arranged. The first is scheduled for Wednesday, June 24, at 1:30 pm at Calvin Presbyterian Church in Tigard, Ore., which will include the military presence, and the second on Friday, June 26, at 10:30 a.m. at Hawks Ridge Assisted Living in Hood River, Ore., where he resided.
The family requests donations to the Calvin Presbyterian Church, 10445 S.W. Canterbury Lane, Tigard, OR 97224.
Arrangements are under the direction of Anderson's Tribute Center (Funerals, Receptions, Cremations), 1401 Belmont Ave., Hood River, OR 97031; 541-386-1000. Please visit www.andersonstributecenter.com to sign the family guest book.