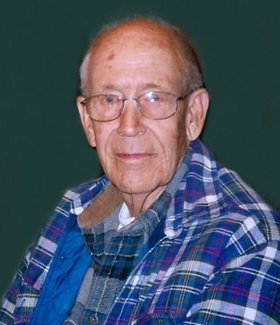 David Eli Miller
January 31, 1925 - March 13, 2009
David Eli Miller passed away peacefully at his home March 13, 2009, following a long battle with Multiple System Atrophy. A longtime resident of Wasco, Ore., he had moved to Hood River with his wife, Rose, so that they could be near family.
Graveside services will be held Saturday, March 21, at Idlewilde Cemetery in Hood River. A time of remembering, food and fellowship will be held afterward at the Miller-Griffin home on Seventh and Eugene streets.
He was born in Goldendale, Wash., Jan. 31, 1925, the fourth child of Eli and Luella (Beeks) Miller. His father passed away before his birth. He grew up and attended school in Goldendale and then entered the U.S. Navy in 1943 and became an aircraft mechanic. He was stationed in the Philippine Islands as an Aviation Machinists Mate 2nd Class until his discharge in 1946.
His parents, one brother, Franklin Miller, and two sisters, Lucille Kappel and Iona Keil, as well as one stepson, Bill (Jude) Crown, preceded him in death.
He is survived by his wife of 32 years, Rose Crown Miller, of Hood River, Ore.; one son, Scott Miller, of Wasco, Ore.; one stepson, John Crown, of Sherwood, Ore.; and two stepdaughters, Denise VandeBruggen, of Damascus, Ore., and Martha Griffin and her husband, Don, of Hood River, Ore.
David considered himself to be the luckiest man in the world with his 12 step-grandchildren. This love was returned many times by his family. It was said by all: Having Grandpa Dave was the best thing that ever happened to them: K.C. Crown and his wife, Doreen, of Rochester, Wash., Julia Crown and her husband, Matt Lowery, of Portland, Ore., Jennifer Crown, of Walla Walla, Wash., Annie Griffin Service and her husband, Tristan Service, Aaron Griffin, Abbey Griffin Wanzek and her husband, Tom Wanzek, of Corvallis, Ore., Amber and Amy Griffin, of Hood River, Ore., Pieter VandeBruggen, of Vancouver, Wash., Hans VandeBruggen, of Portland, Ore.; Mathys VandeBruggen and his wife, Erica, and Hendrik VandeBruggen, all of Inglewood, Calif.
He had one step-great-grandson, Michail Crown, of Rochester. He is also survived by one niece, Charlene Vanverveldon, of Salishan, Ore., and two nephews, Ron Keil, of Vancouver, Wash., and Doug Keil and his wife, Connie, of Stayton, Ore.
He had a life-long talent and love for mechanics and had owned and operated Miller Motors in Wasco, Ore., for more than 50 years. He was highly thought of in Sherman County and many of the ranchers used to talk about the creative repairs he had made during harvest season, referring to them as "Miller Specials"!
David went to Wasco in the early 1950s to work as a mechanic. After awhile the man he worked for went out of business and he found himself on his own. When the lease ran out on the building he rented, it looked like he would have to move elsewhere.
At that point 15 Sherman County ranchers banded together and loaned him the $15,000 to build a shop building. Another person provided the land and many others helped in other ways, donating materials and time to help him start operating. He started in business with a "captive" clientele; the lenders needed to be sure he succeeded!
He was always respected for his dedication and honesty.
Dave was a gun enthusiast and enjoyed teaching many young people how to shoot and handle firearms safely. Dave used his GI school benefits to learn to fly. He owned three airplanes during his flying "career." One was a 1928 Lincoln Page, which is one of only six remaining in the world. He was thrilled to be able to "visit" it in a California museum a year ago.
He also owned a "J-3" and a Piper Super Cub which he would fly out to a ranch on service calls if an opportunity presented itself. He loved any engine operated by steam, and he collected antique gas engines and other historical equipment.
He was a member of the Antique Airplane Club, the Early Day Gas Engine Club, the Oregon Steam Fiends and the Sherman County Historical Society, and was a life member or the N.R.A.
In lieu of flowers, donations may be made to the Sherman County Historical Society, the Klickitat County Historical Society, Hospice of the Gorge or the charity of your choice in care of Anderson's Tribute Center (Funerals, Receptions, Cremations), 1401 Belmont Ave., Hood River, OR 97031; 541-386-1000. Please visit www.andersonstributecenter.com to sign the family guest book.