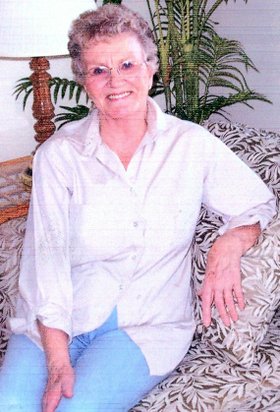 Deloris York
March 8, 1925 - March 13, 2009
Deloris York passed away peacefully at home on Friday, March 13, 2009, with her family by her side. Deloris was born in Essex, Iowa, on March 08, 1925, to Ray and Dorothy Smith. She was the eldest of five.
In 1946 she married Olvirn York and together they had two children, Michael and Pamela. Because Vern worked in construction they traveled around the Northwest, where the work was. Vern passed in 1983 to cancer.
Deloris worked as an apartment and motel manager for 20 years and when growing up worked as a grocery store checker.
Deloris was the most proud of her family. She loved them all very much, and in her eyes they could do no wrong. With them is where she was the happiest. She so enjoyed the trips that she and her daughter, Pam, went on, whether it was across the United States and back, up to Canada or a trip to the "big city." It didn't matter as long as they were together.
When she wasn't traveling she loved to go over to Michael's house and watch the grass grow and the deer running in the yard. A cancer survivor herself in 1987, Deloris and the other three generations of girls in the family participate in the Relay For Life yearly.
Deloris moved into Down Manor in February 2000, where she was known as "Sarge." Never was a person happier than Deloris was at the "manor." While there she was the paper delivery and on-call person if someone needed assistance. This is where "her other daughter," Teresa, worked.
She will leave behind her brother, Bud Smith; daughter, Pam Hawkins and son-in-law, Al; son, Michael York, and daughter-in-law, Marjorie; grandchildren Suzy Coreson and her husband, Darin, James Monroe and his wife, Julie, Kasey Jones and her husband, Dan, and Jeramie York and his wife, Shelly; and great-grandchildren Sara, Joseph, Spencer and Annie.
She is preceded in death by twin sisters Jean Melhorn and Joan Bloom; brother Fred Smith and great-grandchild, Mikey Monroe.
Deloris has touched many lives, and her quick wit and tells-it-like-it-is attitude will be dearly missed by those who knew her and loved her. You never had to wonder what she was thinking. She let you know without being asked.
A Celebration of Life at Down Manor, where her other family lived, will be at 3 p.m. on Wednesday, March 18. .The family asks in lieu of flowers please make donations to the Heart of Hospice in Deloris' name in care of Anderson's Tribute Center (Funerals, Receptions, Cremations), 1401 Belmont Ave., Hood River, OR 97031; (541) 386-1000. Please visit www.andersonstributecenter.com to sign the family guest book.