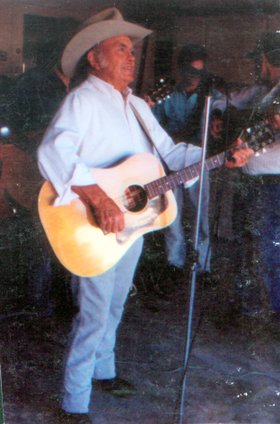 Billy Jo Bell
April 16, 1936 - February 9, 2009
Billy Jo Bell was born April 16, 1936, in Lamesa, Texas, and raised in Lubbock, Texas. At the young age of 18, Billy enlisted in the Marines, where he was a military police officer.
After his enlistment was over, he got a job as a carpenter, and then went on to work at Sonoco, where he worked for more than 30 years as a machine tender. While having a passion for baseball cards with his son, Husty, he opened the Batter's Box in Perris, Calif.
Billy retired early for medical reasons, and got into gardening; growing all types of veggies and selling as a certified market producer at farmers markets. When that got to be too much for him, he enjoyed traveling, going to movies and just spending time with his family.
Ever since Billy was little he had a passion for singing gospel and country music. Everyone knew him as "the honky-tonk man."
Billy passed away Feb. 9, 2009, with his daughters, Robin and Allyson, and niece, Edie, by his side at the Riverside Community Hospital in Riverside, Calif. He died of heart failure, but also had cancer of the liver and kidneys.
He is survived by his wife, Barbara Bell, of California; his daughters, Robin Brewer, of California, and Allyson Struzan, of Cascade Locks, Ore.; sons Andrew, Robert and James Asendorf, all of California; six grandchildren and nine great-grandchildren.
Billy joins his late son, Husty, in his final resting place at Riverside National Cemetery in Riverside, Calif.