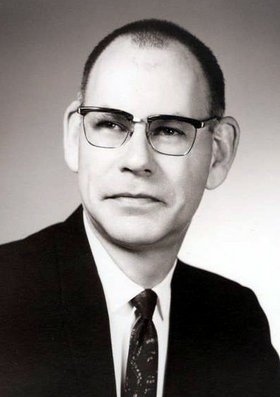 Raymond "Ray" Arnold Dixon
March 4, 1923 - December 17, 2008
Raymond Arnold "Ray" Dixon passed away at his home on Dec. 17, 2008, at the age of 85.
A Celebration of Life service will be held Saturday, March 28, at 11 a.m. at Anderson's Tribute Center, 1401 Belmont Ave., Hood River, Ore.
Ray was born March 4, 1923, in Vale, Ore., to Sylvester Fuller and Lula Candace (Smith) Dixon, the second of two boys. He didn't spend much time in Eastern Oregon because his family moved out West and lived in The Dalles. Ray attended school in The Dalles and graduated from The Dalles High School in 1941.
Not long after graduation Ray enlisted in the Navy and served our country proudly in the Pacific Theater and was stationed stateside at Farragut Naval Base in Northern Idaho and also Alaska. He was honorably discharged in 1945.
On Feb. 15, 1948, Ray married Helen Lorraine Martin and to this union were blessed three children: Gloria, Marcia and Steven.
Ray went to work for Pacific Power & Light in 1946 and worked 40 years for the company before retiring in 1986. He served in many capacities and his career took him and his family throughout the Pacific Northwest, living in The Dalles, Bend, Grandview and Portland, as well as 15 years in Wyoming.
Ray enjoyed movies, dancing and reading westerns — as a matter of fact, he has read all of Louis L'Amour books at least twice.
He didn't like gardening or yard work; the only grass he wanted to deal with was that on a golf course, Ray was an avid golfer. He was a member of the Odell Lions Club and the Elks Lodge of Rawlins, Wyo. Of all of his hobbies and interests over the years his greatest passion and love was his family.
Although there is never a good time to lose a loved one, the holiday season definitely complicated Ray's passing. He always loved Christmas, as it was a time that family gathered together.
May you gather strength in the poem below:
My First Christmas in Heaven
I see the countless Christmas trees around the world below;
With tiny lights, like Heaven's stars, reflecting on the snow;
The sight is so spectacular, please wipe away the tear;
For I am spending Christmas in Heaven this year.
I hear the many Christmas songs that people hold so dear;
But the sounds of music can't compare
With the Christmas choir up here.
I have no words to tell you the joy their voices bring;
For it is beyond description to hear the angels sing.
I know how much you miss me; I see the pain inside your heart.
But I am not so far away; we really aren't apart.
So be happy for me, dear ones, you know I hold you dear.
And be glad I'm spending Christmas in Heaven this year.
I sent you each a special gift from my heavenly home above.
I sent you each a memory of my undying love.
So have a Merry Christmas and wipe away that tear.
Remember, I am spending Christmas in Heaven this year.
Ray is survived and will be dearly missed by his wife of 60 years, Helen, at their home in Odell, Ore.; three children, Gloria (and Jim) Dilley, of LaPine, Ore., Marcia Dixon, of El Mirage, Ariz., and Steven (and Sharie) Dixon, of Bozeman, Mont.; grandchildren Eric Charles Schick, Adam Charles Schick and Jacob Conklin; step-grandchildren Shannon Dilley, Amy Conrad, Jack Levich, Nicole Levich-Kelsey and Douglas Dixon; four great-grandchildren; numerous other distant family and many friends.
In addition to his parents Ray was preceded in death by his brother, Leon.
The family suggests that memorial contributions be made to Lions Sight & Hearing Foundation in his name and sent care of Anderson's.
Arrangements are under the direction of Anderson's Tribute Center (Funerals, Receptions, Cremations), 1401 Belmont Ave., Hood River, OR 97031; 541-386-1000. Please visit www.andersonstributecenter.com to sign the family guest book.