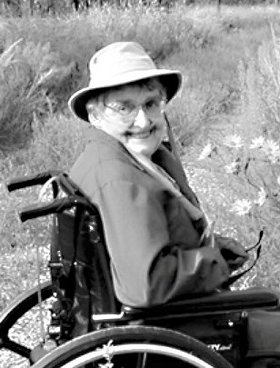 Cookie Eden
July 25, 1924 - March 3, 2009
Cookie Eden was born in St. Louis, Mo., on July 25, 1924, and passed away peacefully on Sunday March 3, 2009, surrounded by her three children.
She is survived by daughters Brooke, of St. Paul, Minn., and Leah (and husband) of Chicago, Ill., son, Nick (and wife), of The Dalles, Ore.; her sister, Jeanne, of St. Louis, Mo.; five grandchildren and one great-grandson.
Cookie had lived at Waverly Gardens for a year and a half, after moving from Hood River, Ore., where she retired near her son, Nick. Previously Cookie lived near Northfield, Minn., where she tended 80 acres of fields and forest while raising three children. She had two long-term marriages, each with its own joys and sorrows.
Cookie loved birds and all growing things. Through Brooke's eyes she watched a determined phoebe build a nest outside her window. She loved to wheel around the paths and learned to identify bird calls in the trees near our building.
After hearing from our resident naturalist about the blooming of the blue bottle gentian, she and Brooke wheeled down through the marsh path to find it — and did! Her faithful companion, cat Boo, was a constant joy to her.
As many people do, Cookie had her struggles with health later in life, and was gratified to find good friends at Waverly Gardens to help her during this time. She enjoyed meeting the many residents from interesting walks of life. She was grateful for the joys of shared meals and conversations each day, and for the loving kindness of all staff.
Memorial services will be held in St. Louis for family in May. Cookie's family would like to extend heartfelt thanks to residents and staff for their companionship and care for our mother. Her life was richer because of you.